The Siam Society Milestones
About Us
The Siam Society Under Royal Patronage is a Thai cultural organisation with an international scope. It promotes the study and knowledge-sharing about the cultures, history, arts, and heritage conservation of Thailand and its neighbouring countries in South-East Asia. The Society's activities are guided by its motto: "Knowledge Gives Rise to Friendship" and it welcomes visitors of all nationalities, including non-members, to visit its facilities and join in its activities.
Accolades Received by The Siam Society
– 2001 –
The Siam Society was cited by the Association of Siamese Architects for its excellence in preserving the historically significant buildings within its compound.
— 2012 —
The Siam Society was awarded "Best Cultural Organisation" status at provincial, regional and national levels by the Ministry of Culture of the Royal Thai Government.
— 2013 —
The Council Minutes books from 1904−2004 were inscribed in UNESCO's Memory of the World International Register.
— 2014 —
The library was conferred "Outstanding Specialist Library" status by the Thai Library Association.
Journey of The Siam Society
Founded in 1904
The Siam Society was founded on 26 February 1904 by a group of Siamese and international scholars in history and archaeology at a meeting that took place at The Oriental hotel.
HRH Crown Prince Vajiravudh (later HM King Rama VI, r. 1910−1925) was elected the Society's first Royal Patron (and subsequently, the reigning king has been the Society's Royal Patron with other royal family members as Royal Vice-Patron and/or Honorary President.) HRH Prince Damrong Rajanubhab, President of the National Library of Thailand, was elected Vice-Patron. Chao Phraya Bhaskarawongse was conferred honorary membership in recognition of his distinguished scholarship in the field of literature, as well as for his generosity in placing his extensive library at the disposal of Society members.
At the first meeting of the inaugural Council on 10 March 1904, it was determined that: "The objects of the Society shall be the investigation and encouragement of Art, Science and Literature in relation to Siam and neighbouring countries." A total of 103 people, Siamese and international, signed up as members within the first month.
International scholarly societies were also quick to extend their support, including École Française d'Extrême-Orient, Royal Batavian Association of Arts and Sciences, Royal Asiatic Society, and Società Asiatica Italiana. The publications of these Societies formed the basis of The Siam Society's library collection.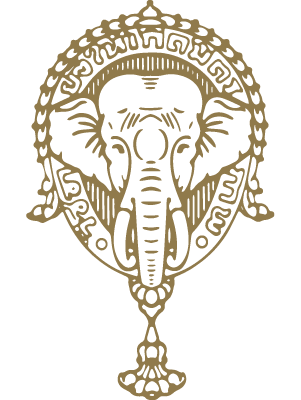 The emblem of the Society, an elephant head holding a flower garland with its trunk, was designed by Prince Narisara Nuwattiwong in 1926. It incorporates the motto: "วิชชายังให้เกิดมิตรภาพ" or "Knowledge Gives Rise to Friendship" that was composed by Prince Damrong Rajanubhab and Prince Dhani Nivat along with the explanation that: "This motto tries to convey the idea that the search for knowledge is the bond which unites the Siamese and foreign members of the Society in a friendly spirit of collaboration."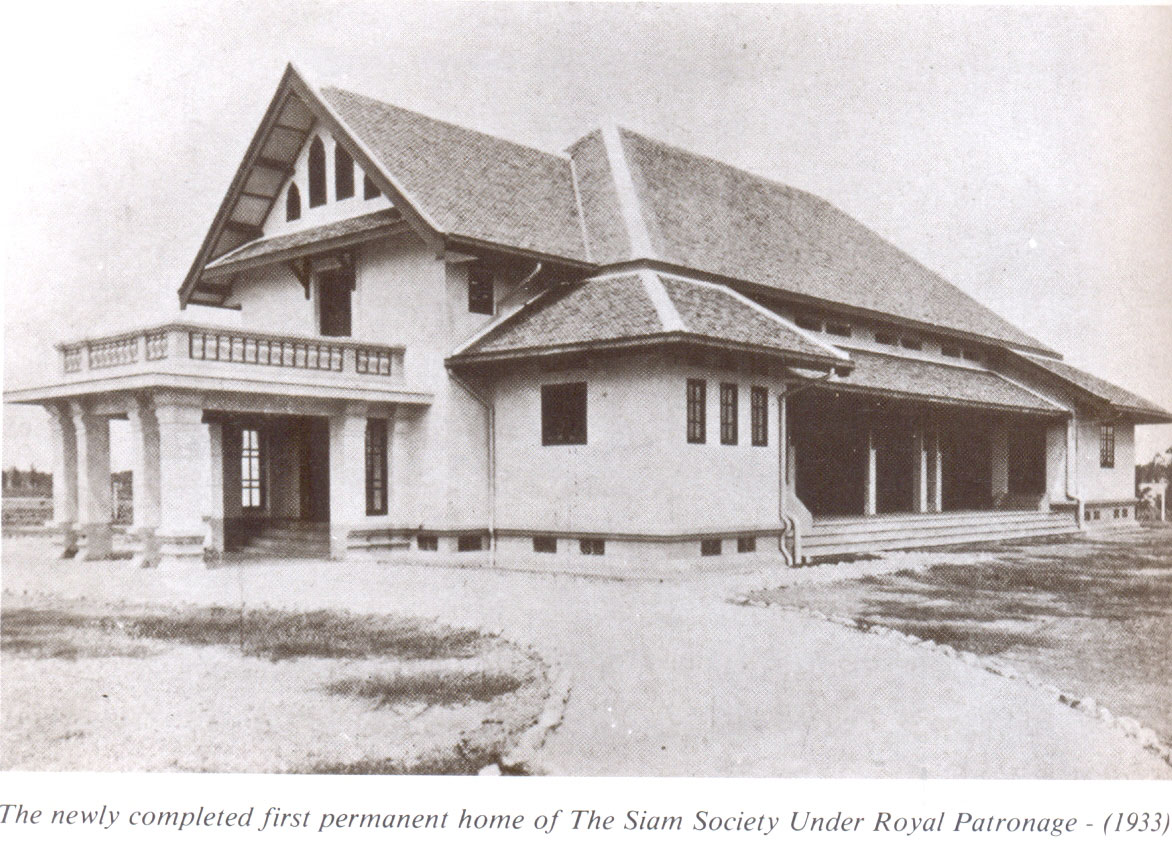 In 1931, Ahamad Ebrahim Nana gifted the Society a land plot measuring three rai at 131 Asoke-Montri Road (aka Sukhumvit Road Soi 21). A building that consisted of an auditorium and library was designed by British architect Edward Healey. The new site was officially opened on 28 February 1933 and has since remained the Society's permanent address.
Click on the gallery on the left to read newspaper report of the opening.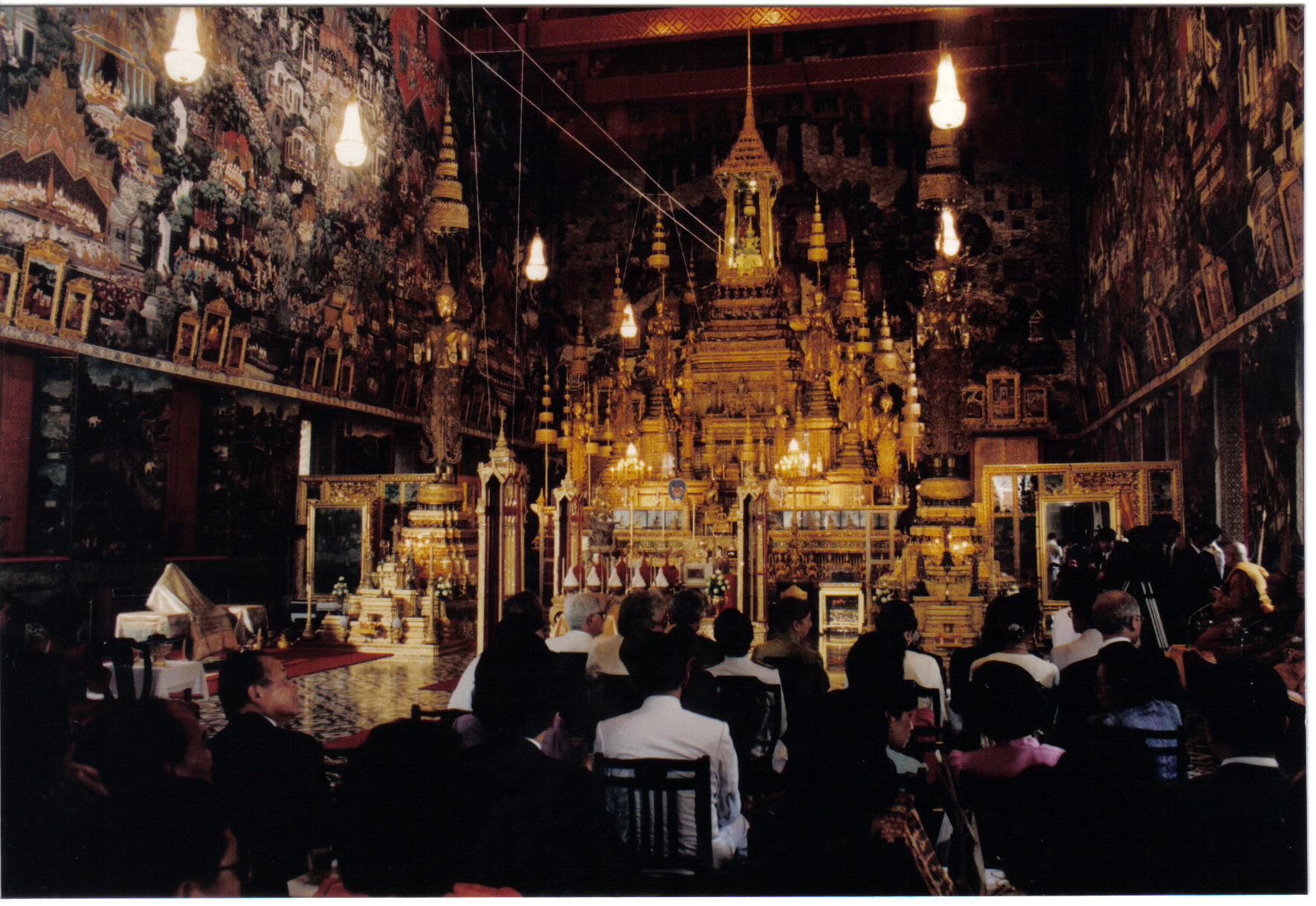 Significant People and Events
In the decades following its inception, the Society's reputation and activities flourished with the participation of numerous eminent scholars who contributed open intellectual discussion, academic essays, publications, development of activity programmes, and more. The list of scholars is long and includes, in no particular order: HRH Prince Damrong Rajanubhab, Prof George Coedès (also President, 1925–1930), HH Prince Dhani Nivat (also President, 1940–1944 and 1947-1965), HRH Prince Wan Waithayakon (also President, 1944–1947 and 1969–1976), Prof Dr Piriya Krairiksh (also President, 1989–1994), Dr Prasert Na Nagara, Mr Kraisri Nimmanahaeminda, Mr Jan J Boeles, Miss Edna Sarah Cole, Prof Khunying Maenmas Chavalit, Mr Term Meetem, Phya Anuman Rajadhon, Prof Michael Smithies, Dr Tem Smitinand, Mr Sulak Sivaraksa, HSH Prince Subhadradis Diskul and Prof Dr Pasuk Phongpaichit.
A significant event for the Society was initiated in 1990, when the Council approved the casting a gold Footprint of Lord Buddha in honour of HM Queen Sirikit's 60th birthday. It was cast in Thonburi using 35 kg of gold, based on a wax model made at the time of HM King Rama V, and measures 170 cm x 70 cm. The Footprint of Lord Buddha was consecrated by HM King Rama IX in a ceremony at Wat Phra Si Rattana Satsadaram (Wat Phra Kaew) on 22 June 1994.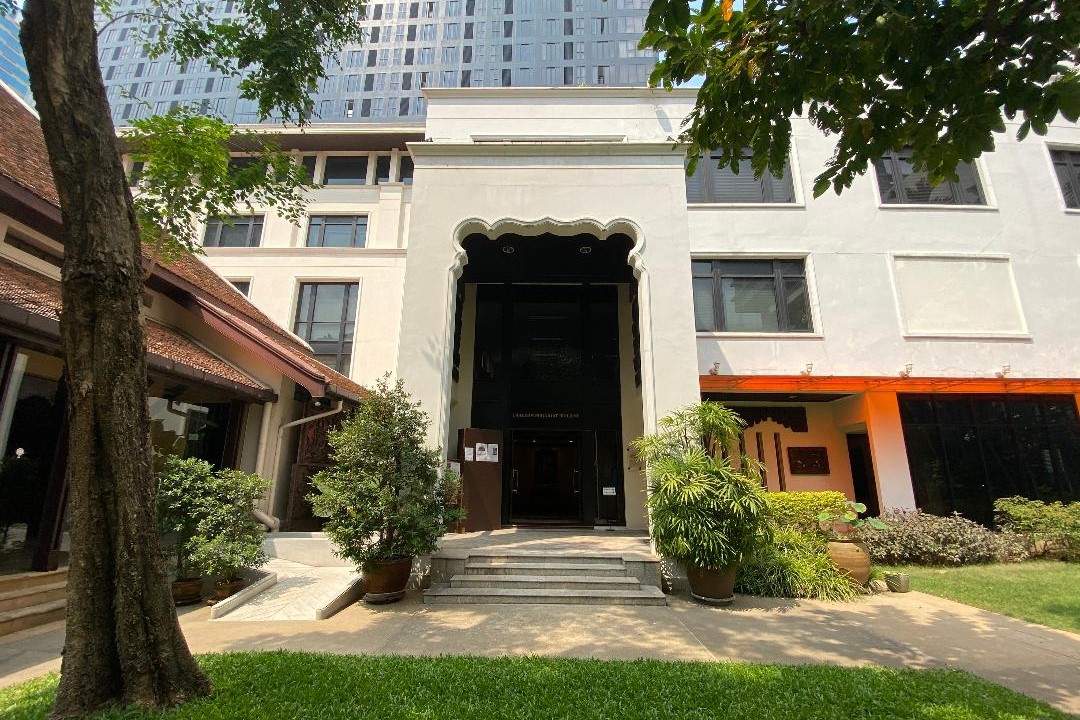 Another significant event was the construction of Chalerm Phrakiat Building near the auditorium, to accommodate the growth of the Society. The building was named in honour of HM King Rama IX's 50th coronation anniversary, and designed to house the library, office, lecture and meeting rooms. On 16 December 1994, HRH Princess Galyani Vadhana laid the cornerstone of Chalerm Phrakiat Building and on 30 September 1998 it was opened by HRH Crown Prince Vajiralongkorn (HM King Rama X today) on behalf of HM King Rama IX.
The Siam Society has been honoured to receive more visits from royalty, including from other countries, such as:  HM King Prajadhipok and HM Queen Rambai Barni on 8 January 1934; HM King Rama VIII, HRH Prince Bhumibol (later HM King Rama IX) and the Princess Mother attended a lecture delivered by Prince Dhani Nivat on 24 March 1946; HM King Rama IX and HM Queen Sirikit on 4 December 1954; HM King Rama IX, HM Queen Sirikit, and Queen Rambai Barni, accompanied by Queen Ingrid and King Frederik IX of Denmark, on 13 January 1962; HM Queen Rambai Barni on 26 February 1976.
In 2013, UNESCO's Memory of the World inscribed the Society's Council Minutes dating between 1904−2004 on its International Register. The citation reads, in part: "One hundred years of recording international cooperation in research and the dissemination of knowledge in the arts and sciences…. It reflects the Society's system, process and outcome of work, its obstacles and challenges, the personalities and organizations contributing to its success and the scope of its work in a century of great international changes and development. It testifies to the continuous transactions and cooperation of an international and intellectual nature, among the many generations of people elected to carry out the work of The Siam Society over the long and eventful century."
 Facilities and Activities Today
As the most active international society in South-East Asia for knowledge-sharing of cultural heritage and advocacy of cultural heritage, there is at least one event occurring at The Siam Society each week, in addition to study trips. It's membership today comprises of over 60 nationalities and the Society welcomes all visitors, including non-members, to visit its facilities and join in its activities.
The Society's activities today remain guided by its motto: "Knowledge Gives Rise to Friendship". In 2012 The Siam Society was conferred three "Best Cultural Organisation" awards (provincial, regional and national) by the Ministry of Culture of the Royal Thai Government.
Below is a short overview of the facilities and activities of the Society today. Please visit the other pages of this website for more detailed information, upcoming events, the relevant persons to contact for enquiries, and more.
 Library
The Siam Society library specialises in the fine arts, humanities, social sciences and natural sciences of Thailand and other countries in Southeast Asia. It is also noted for its outstanding collections of rare books contributed by ML Manich Jumsai, Prince Prisdang Chumsai and Dr Sumet Jumsai, as well as its palm leaf manuscripts. In 2014 the library was recognised as an "Outstanding Specialist Library" by the Thai Library Association.
Kamthieng House Museum
Kamthieng House Museum is a superb example of a traditional northern Thai house, and within it is displayed a permanent ethnological exhibition that showcases the traditional beliefs and ideologies of the Lanna people. The teakwood house was originally built in Chiang Mai in the mid-19th century and then passed down through many generations of a Lanna matrilineal clan. In 1963 it was gifted to The Siam Society by Mrs Kimhaw Nimmanhaeminda. The house was named after her mother, Kamthieng.
On 21 November 1966, HM King Rama IX presided over the opening of Kamthieng House Musuem.
Saeng Aroon House
Built in Ayutthaya, Saeng Aroon House is a traditional teakwood house that is an excellent example of central Thai architecture. In 1987 it was gifted to The Siam Society by Mrs Lada Ratkasikorn in memory of her husband Professor Saeng Aroon, a noted architect and lecturer at Chulalongkorn University.
On 26 February 1988, HRH Princess Galyani Vadhana, then Honorary President of The Siam Society Under Royal Patronage, graciously presided over the opening ceremony of Saeng Aroon House.
Auditorium 
Designed by British architect Edward Healey in 1932, the auditorium has a high ceiling, three-metre-high glass doors on each long side that open on to the gardens, and a stage located at the far end that is regularly used for cultural performances, seminars and private events.
In 2002, the Association of Siamese Architects cited the Society for excellence in preserving the historically-significant buildings within its compound.
Collection of The Siam Society
The Society has assembled a collection of valuable objects, provided by members and others, that includes sculptures, religious paintings, ceramics, ancient maps, textiles, woodcarvings, plus miscellaneous items such as Khon masks and puppets. Many of these pieces are displayed around the Society's premises. In 2016 a selection of highlights from the collection were published in the publication "Sombat Sayam : The Siam Society Collection".
Publications
The Journal of the Siam Society (JSS) has been in continuous publication since 1904, printing original articles of a scholarly nature in English on a biannual basis, on a wide range of disciplines including archaeology, epigraphy, history, ethnology, religion, language, literature, art and architecture, and performing arts.
The Natural History Bulletin of The Siam Society (NHBSS) is a bi-annual publication of scholarly articles in English on the flora and fauna of Thailand and its neighbouring countries.
On occasion The Siam Society publishes a limited-edition book, perhaps in commemoration of a special anniversary, that may be a collection of articles, new work of reference, translation of ancient documents, or other.
Lectures
Lectures are a regular activity at The Siam Society and take place on an almost-weekly basis. They are given in English by an appealing mix of speakers including authors, visiting scholars, leading experts and enthusiasts on diverse subject matter such as new archaeological finds, Thai history, antique textile collections, and much more. The lectures often end with a lively Q&A session.
Study trips
Study trips, within Thailand and overseas, are a core activity of The Siam Society and these are led by distinguished academics and experts in fields ranging from history and culture to heritage conservation to botany. A trip may, for example, focus on historical sites and a recently-discovered archaeological site, or a local festival and lesser-known temples, or an ancient pilgrimage route such as Camino de Santiago in Portugal-Spain, and Shikoku Temple Pilgrimage in Japan.
Culural heritage conservation
The Siamese Heritage Trust Committee was established in 2011 to raise the visibility of cultural heritage management and conservation in Thailand. In 2020, the committee established the Southeast Asian Cultural Heritage Alliance (SEACHA) to promote effective government-community partnership in cultural heritage management with a focus on South-East Asia. 
Conferences, Exhibitions and Workshops
Previous international conferences include: "Sukhothai Inscription One" debate in 1989; "Culture and Environment in Thailand" in 1997; "King Chulalongkorn's Visit to Europe a Century Earlier" in 1997, and "Heritage Protection: The Asian Experience" in 2019. Previous exhibitions have featured old books, antique textiles and historic maps. Previous workshops offered include the deciphering of ancient scripts, and appreciation of antique pottery.
Performing Arts
Cultural performances are staged in the auditorium and occasionally outdoors on the grounds. Besides Thai and western classical music, there have been performances of Taiko drumming from Japan, Kathak dance from India, and Flamenco dance from Spain.