Gujarat, India's westernmost state is rich in history, culture, and a wealth of textiles, religious and architectural sites as well as a wealth of wildlife. The most sacred Jain site of Palitana is at the mountaintop with over 800 temples on it; the beautiful Sun Temple in Modera; a wealth of ornate step-wells that are characteristic to arid Gujarat; forts, Buddhist caves, and palaces; the excavated site of Lothal dating to the Indus Valley pre-historic period; the ancient mosques of Ahmedabad and its world-famed Calico Museum of textiles, these are some of the highlights of Gujarat. Also in Ahmedabad is the Sabarmati Ashram, home to Mahatma Gandhi and from where he led his famous march for freedom. The trip will include varied sites of different interests, such as the Sasan Gir Wildlife Sanctuary where the last existing Asiatic lions live, a visit to the small villages in the salt fields near Bhuj that are dedicated to a variety of handicrafts, and for textile lovers, a stop at the village of Patan, home to Patola weaving and original craft of ikat.
When
Friday 14 - Sunday 23 February 2020
Leader
Khun Ruth Gerson, Member of The Siam Society
The tentative programme will be as follows:
Day 1: Friday 14 February: Bangkok – Ahmedabad

5.30pm
Meet at Bangkok Don Mueang Airport.
7.40pm
Depart Bangkok for Ahmedabad by Air Asia flight FD144.
10.20pm
Arrive at Sardar Vallabhbhai Patel International Airport, Ahmedabad
Transfer to the city and overnight at Hyatt Regency Hotel

Day 2: Saturday 15 February

Drive to Lothal (75 km), an excavated ancient Indus Valley Civilisation port city with roads, homes, and baths. Continue to Bhavnagar (built in 1723) by a Rajput clan. Visit Ganga Mandir, Takeshwar Temple dedicated to Shiva on a hill overlooking the city and the sea, and Gandhi Smirthi Museum with Gandhi memorabilia. Spend the night in Nilambagh Palace Hotel in Bhavnagar.

Day 3: Sunday 16 February

Early morning visit to Palitana, the Shatrunjaya hill Jain temples with 5,000 steps and 863 structures at the summit built over 900 years ago. Visitors are carried up by dollies, an Indian type of sedan chair. Most noted is the Sri AdishwaraTemple, dedicated to the first Jain tirthankara (spiritual teacher). There is the Muslim shrine of Angar Pir with offerings of miniature cradles by women who wish to have children. Afternoon drive to Sasan Gir Nation Park, 180 km, to see the last Asiatic lions. Spend the night in Gateway Hotel.

Day 4: Monday 17 February

Morning jeep safari to see the Asiatic lions from 9am to noon. Afternoon drive to Junagadh (76 km) visit the Mahabat Maqbara palace and mausoleum (of the Wazir ruler), Khambhalalida Buddhist caves on the way to Gondal (67 km). Night in Orchard Palace in Gondal.

Day 5: Tuesday 18 February

Drive from Gondal to Bhuj (272km, 5 1/2 hours) via Rajkot. Visit in Rajkot the Watson Museum (built 1893) of history, archaeology and art. Reach Bhuj late afternoon. Walk around the town, the bazaar. Spend the night in The Fern Residency, Bhuj.

Day 6: Wednesday 19 February

Morning visit to Banni villages in Kutch, near Bhuj to see the various handicrafts. Afternoon visit in Bhuj to Aina Mahal (18th century) and Prag Mahal (19th century), Kutch Museum (built in 1877). Spend the night in The Fern Residency, Bhuj.

Day 7: Thursday 20 February

Drive to Ahmedabad (331 km, 7 hr) with stops at Ajarakpur village to view the famed block printing, Dhaneti, a tribal village community of embroiders, and Halvad with its impressive old palace. After arrival check in hotel. Law Garden Night Market (in Navrapura). Spend the night in Hyatt Regency Hotel.

Day 8: Friday 21 February

Sun Temple of Modera (built in 1026-1027) 100 km; visit Patan, home to patola the ikat weaving that spread to Asia, and mashru weaving a mix of silk and cotton. Rani Ki Vav the largest step well built for a queen. On the way back, visit the finely carved Adalaj step well north of Ahmedabad. Spend the night in Hyatt Regency Hotel.

Day 9: Saturday 22 February

Morning visit to Sabramati Ashram, home to Mahatma Gandhi, the Calico Museum (open from 10.30am to 1pm) Afternoon Heritage Walk of Ahmedabad –Jama Masjid, (1423), Sidhi Sayid Mosque (1572) with its Shaking Minarets, Bhadra Fort (1411).
Late Afternoon flight to Jaipur by Go Air G8708 departing at 5.05pm, arriving Jaipur at 6.45pm. Connect to Thai Smile flight WE344 for Bangkok, departing at 10.15pm.

Day 10: Sunday 23 February

4.15am
Arrive at Bangkok Suvarnabhumi Airport.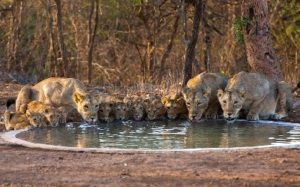 Booking
THB 90,500 (THB 94,000 for non-members). Single room surcharge THB 14,000. A deposit of THB 30,000 and photocopy of passport must accompany the booking. Your reservation will be confirmed as soon as the deposit has been made. Payment in full is required 60 days before the start of the trip (i.e. by Saturday 14 December 2019).
Please pay by cash or cheque payable to 'The Siam Society'. There is a 4% surcharge for credit/debit card payment to cover bank charges. Alternatively, you can deposit/transfer the money to the Siam Society travel account at the TMB Bank, Asoke Branch saving account no. 053-2-18000-7. Please fax or e-mail the deposit or transfer docket to us. In case the tour must be cancelled due to insufficient participants, a full refund of the deposit will be made.
Includes/Excludes:
The contribution includes international airfares, meals as mentioned in program, accommodation for two persons per room, entrance fees, gratuities and other costs incurred to make this trip possible. It excludes visa fee (if any), personal expenses, personal beverages, etc.
To comply with payment and cancellation policies set forth by tour agencies, and to facilitate smooth working condition between the Siam Society and the tour agencies, please read carefully the revised cancellation policies stated below:
Cancellation charge:
60 days before the start of the trip:   Deposit forfeited
60–30 days before the start of the trip:    50% of the tour cost
Less than 30 days or cancellation without notice:   No refund
Your booking will not be confirmed until deposit payment has been received. Please book your place as soon as possible. Please supply a copy of your passport with your booking.
The Siam Society reserves the right to change the programme as necessary. Seats are limited. Please book your place as soon as possible. For further information and bookings please contact Khun Prasert or Khun Supanut.
More upcoming study trips