The Splendid Hashemite Kingdom of Jordan
Jordan is a land of history with some of the oldest human civilisations leaving their mark. Today, one can still trace their movements in the many castles and ruins that dot the landscape, painting a picture telling story of how Jordan has been the meeting point for the Middle East and beyond for centuries.
The history of Jordan is one of invasion and conquest.  Historically, Jordan for the most part, has been a collection of city-states, but the strategic geographic location of the area ensured that all the great early civilisations passed through this land. The Egyptians, Assyrians, Babylonians, Greeks, Romans, Arabs, Turks and Crusaders all helped to shape the history of the region. They traded, built cities and fought their wars here, leaving behind rich cultural influences.
Jordan comprises an area of 92,300 square kilometers, 91,971 of which are land and only 329 of which are water with a coastline of only 26 kilometres. Most of the land is arid desert plateau. There is a highland area in the west and the Great Rift Valley separates the east and west banks of the Jordan River.
The lowest point in Jordan and the World is the Dead Sea, at 405 meters below sea level, and the highest point in Jordan is Jabal Rum, at 1,734 meters above sea level.
Recently, Jordan has begun to build up its tourist infrastructure, taking advantage of the enormous interest worldwide in eco-tourism. Jordan's location on the Great Rift Valley provides it with amazing geographical sites such as the Dead Sea and Wadi Dana, and it hosts a unique combination of flora and fauna, which it has made strides in protecting. Its amazing number of sites sacred to Muslims and Christians has made it a draw for religious travelers. Visitors interested in secular history can enjoy a variety of opportunities including Roman, Byzantine and Islamic sites, such as Qasr Amra, now a UNESCO World Heritage Site.
This coming February, The Siam Society will organise a nine-day study trip to the Kingdom of Jordan, where you will have the opportunity to experience the rose-red city of Petra, along with Jerash, an outstanding example of a rich Roman provincial town and one of the best preserved of the cities of the Decapolis. In addition, we will also pay a visit to Mt. Nebo, Madaba city, Dana Natural Reserve and indulge in the natural wonders of Wadi Rum and the Dead Sea.
When
Saturday, 18 to Sunday, 26 February 2023
Leader
Khun Kanitha Kasina-Ubol, Managing Director of The Siam Society
The tentative programme will be as follows:
Day 1: Saturday, 18 February: Bangkok
22:00
Meet at Suvarnabhumi Airport, check in at counter of Royal Jordanian Airlines.
Day 2: Sunday, 19 February: Bangkok – Amman
00:20
Depart to Amman by flight RJ 183 (10.30 hrs.)
05:50
Arrival at Queen Alia International Airport in Amman, transfer to Amman Marriott Hotel for breakfast, after that we will start with a half day tour to the Roman Amphitheater followed by the Citadel, the Archeological Museum, and the beautiful King Abdullah Mosque and Jordan Museum.
Noon:
Lunch at a local restaurant and check in at hotel, free time at your leisure.
–
Dinner and overnight at Amman Marriott Hotel
Day 3: Monday, 20 February: Amman – Dessert Castles – Amman
Morning:
After breakfast, start a full day journey into the eastern desert where the plains are dotted with a string of atmospheric early Umayyad inns and hunting lodges, known as the "Desert Castles."  The first stop will be at Qasr Al-Kharanah (Hraneh), built in a traditional Umayyad style with many ornate decorations.
–
Continue to visit Qasr Amra, a small bathhouse built to take advantage of the waters of Wadi Butm. The walls of this small building are completely covered with wonderful frescoes celebrating earthly pleasures.
–
Visit Azrag Oasis, 110 kilometres east of Amman at the junction of roads leading northeast into Irag and southeast into Saudi Arabia.  With 12 square kilometers of lush parklands, pools and gardens, Azraq has the only water in all of the eastern desert. The oasis is also home to a host of water buffalo and other wildlife. There are four main springs which supply Azraq with its water as well as its name, which in Arabic means "blue".
–
We will then visit Qasr al-Azraq, where Lawrence of Arabia made the fortress his desert winter headquarters in 1917, during the Great Arab Revolt against the Ottoman Empire.
Evening:
Dinner at a local restaurant.
Overnight at Amman Marriott Hotel
Day 4: Tuesday, 21 February: Amman – Madaba – Mt.Nebo – Shoback – Petra
08:00
After breakfast, check out of the hotel and proceed to Petra.
On the way, visit Madaba, where we you can experience the famous geographically accurate mosaic of Palestine. Afterwards, travel to Mt. Nebo from where Moses viewed the Promised Land and experience the spectacular panorama of the Jordan Valley, Jericho and the Judean Hills.
Noon:
Lunch at a local restaurant.
Afternoon:
Visit Shoback Castle, built in 1115 by Baldwin I of Jerusalem. It was strategically located on a hill on the plain of Edom, along the pilgrimage and caravan routes from Syria to Arabia. This allowed Baldwin to control the commerce of the area.
Evening:
Dinner and overnight at Hotel Mövenpick in Petra.

Day 5: Wednesday, 22 February: Petra
–
After breakfast, Visit Petra Museum and take a horse ride to the head of the Siq (a canyon), then walk into the ancient city of Petra. Petra, the "Rose Red City," was for centuries an incredible hidden city, inhabited by the ancient Nabateans, and concealed from 100 AD until it was re-discovered by a Swiss explorer in 1812.
All day:
Visit a various sightseeing spot in Petra. The Treasury, carved in pink stone, the Roman Theatre, the Corinthian Tomb and the Palace Tomb. Enjoy a full day of walking and hiking through the ancient city. Lunch in Petra.
Evening:
Dinner and overnight at Hotel Mövenpick in Petra.
Day 6: Thursday, 23 February: Petra – Dana Nature Reserve – Wadi Rum
08:00
After breakfast, check out of the hotel and travel to Dana Village.
Morning:
Hike at Dana Nature Reserve (about 3 hrs.), where we can experience the diverse fauna and flora and life in the village. Enjoy stunning views, fresh air, and the beauty of the area. The trail is moderate. In some spots, it may be necessary to clamber some rocks.
Noon:
Lunch at a local restaurant.

Afternoon:
Proceed to Wadi Rum.
–
Excursion in Wadi Rum by 4×4 vehicle, visit sites along the way.
–
Dinner and overnight at Wadi Rum Bedouin Camp, situated in the desert landscape within the Wadi Rum protected area.
Day 7: Friday, 24 February: Wadi Rum – Aqaba – Dead Sea
08:30
After breakfast, check out of the Camp.
Morning:
Proceed to visit Aqaba, Jordanian port city on the Red Sea's Gulf of Aqaba. Inhabited since 4000 B.C., it is home to the Islamic-era Aqaba Fort. Now, Aqaba is the popular beach resorts of Jordan, a top destination for scuba divers and sea sport and other water sports.
–
Visit the ruins of Aqaba Church, The Islamic city of Ayla. The Crusader-Mamluk fortress.
Noon:
Lunch at a local restaurant.
Afternoon:
Continue to Dead Sea.
Experience floating in the salty waters.
Evening:
Dinner and overnight at Mövenpick Resort & Spa Dead Sea.

Day 8: Saturday, 25 February: Dead Sea – Jerash – Dead Sea
Morning:
Breakfast and at leisure.
Noon:
Lunch at a local restaurant.

Afternoon:

Proceed to visit the ancient Roman city of Jerash, one of the best-preserved Roman cities in the world. Here, you can see the Elliptical Forum, the Street of Columns, and the Temple of Artemis. This ancient city hosts an annual Arts Festival with performances taking place in the theatre.

–
Afterwards, return for dinner at the hotel.
23:00
Check out of the hotel and proceed to Queen Alia International Airport

Day 9: Sunday, 26 February: Amman – Bangkok
02:15
Depart Amman to Bangkok by Royal Jordanian flight RJ182 (8.10 hrs.)
14:25
Arrival at Bangkok Suvarnabhumi Airport.
                     The Siam Society reserves the right to change the programme as necessary.
Booking:
Contribution of THB 114,000 (THB 117,500 for non-member). Single room surcharge of THB 30,000. A deposit of THB 35,000 and a photocopy of the identification page on your passport must accompany the booking. Your reservation will be confirmed as soon as the deposit has been made. Payment in full will be required 30 days before the start of the trip (i.e. by Wednesday, 18 January 2023). Please pay by cash or cheque payable to "The Siam Society". Transfer can also be made to The Siam Society travel account at TMBThanachart Bank (ttb), saving account no. 053-2-18000-7 or by scanning the QR code on your right. Once payment has been made, please fax or e-mail the deposit or transfer docket to us.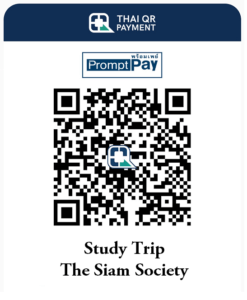 Inclusions:
The contribution includes accommodation (twin sharing basis), meals as mentioned in programme, transfer & sightseeing coaches, entrance fees, gratuities and other costs incurred to make this trip possible.
Exclusions:
International airfares are not included in the price,but for those who would like us to book their tickets, it can be arranged at the time of booking.
Visa fees, personal expenses, personal food and beverage consumptions, etc.
Please note that the flight itinerary between Bangkok-Amman-Bangkok mentioned in the programme only serves as a suggestion. Trip participants are free to travel with their select airline of choice throughout the above sequence of itinerary.
To comply with payment and cancellation policies set forth by tour agencies and to facilitate smooth working conditions between The Siam Society and the tour agencies, please read carefully the revised cancellation policies stated below:
Cancellation charges:
| | |
| --- | --- |
| 45 days before the start of the trip: | Deposit forfeited |
| 45–30 days before the start of the trip: | 50% of the tour cost |
| Less than 30 days or cancellation without notice: | No refund |
Covid-19 policy
Due to a lower number of worldwide infections, many countries have relaxed their travel restrictions and quarantine requirements in regards to Covid-19.
Nevertheless, when traveling as a group, The Siam Society would like to remind you of the following measures that we have put in place:
– We kindly ask that our trip participants perform a self-administered ATK test prior to the commencement of the trip. Participants are also asked to carry along with them multiple sets of ATK test kit, along with their preferred set of medicines (for consumption if infected with Covid-19.)
– In the event that trip participants are tested positive during the trip, the group will continue to follow the planned itinerary. To ensure the health and safety of all trip participants, those tested positive shall adhere to appropriate self-isolation measures as directed by the trip leader.
– Those tested positive with severe symptoms shall be treated in accordance with the health measures stipulated by the local government. Medical costs in excess of the insurance coverage shall be at the expense of trip participant(s).
– The Siam Society will provide a health insurance for all trip participants. Medical costs in excess of the insurance coverage shall be at the expense of trip participant.
– Our staff and local tour operators will constantly provide you with the latest update on local health and safety regulations.
Tourist Visa Policy
All visitors from all countries (except certain restricted countries) are eligible to apply for a Visa on Arrival (VOA) for entering Jordan for the purpose of tourism. This can be done at the airports, as well as most border crossings. Further information on the procedure and required documents will be given to you prior to our departure. However, visitors from restricted countries will need to pre-arrange for a visa and will not be eligible for VOA.
Please find a list of restricted countries from this link: https://moi.gov.jo/EN/Pages/Restricted_and_Non_Restricted_Countries_Nationalities.
For further information and bookings, please contact Khun Supanut at 02-661-6470-3 ext 506 or Khun Thun at 02-661-6470-3 ext 205, or supanut@thesiamsociety.org. The Society's office is open from 09:00 to 17:00, Tuesday to Saturday.
More upcoming study trips