A Visit to Four Heritage Buildings
The Old Bangkok: Beauty, Delicacy and Legacies of the Past
Prince Chulalongkorn, the son of King Rama IV, became the fifth king of the Chakri Dynasty when he was only 15 years old. During his reign, he initiated many important social reforms. The King abolished serfdom and the conscription of commoners for slave labour but implemented these reforms gradually so that the society could adjust without having a civil war, as it had happened in other places. As a result of the abolishment of these two systems, an influx of independent labour entered the market, and consequently, the economy of Siam expanded enormously at this time. In addition, King Rama V also reformed the government by applying the nation-state policy. The central government would have the power to govern and administer its policies, and creating unity within the nation as a result. At the same time, in 1892, he established 14 western-style ministries. Rattanakosin had been established for 100 years and celebrated its centenary in 1882. The city was quite developed and much changed. During His Majesty's reign, he travelled twice to Europe in 1897 and 1907. Many houses and ministry buildings were built in European architectural styles. Architects, engineers, sculptors and painters came from across Europe and contributed to Bangkok's developing landscape. Modern infrastructure systems of telegraph, telephone, train and tram were constructed. Siam had to develop in all modern ways so that no western powers could claim the lack of civilisation as an excuse to colonise the country.
The Siam Society will arrange a one-day trip to visit some of these magnificent architectures in Bangkok, under the leadership of Dr Navamintr Vitayakul, Former Council Member and Chairperson of Lecture Committee of The Siam Society.
When
Saturday, 10 September 2022
Leader
Dr Navamintr Vitayakul, Former Council Member and Chairperson of Lecture Committee
The tentative programme will be as follows:
Saturday, 10 September 2022
–
Meet at The Siam Society, 131 Asoke Montri Road, Sukhumvit 21, Bangkok.
08:30
Depart The Siam Society to Nonthi House (Baan Piboontham), built in 1897 by King Rama V and given to Phraya Anurak Ratchamonthian (Mom Ratchawong Pum Malakul) and extended in the King Rama VI's reign.
–
Visit Ruen Phraya Sri Dhammadhiraj, a noble house built during the reign of King Rama VI in a colonial style. This house once belonged to the patrician who served at the court of King Rama V and King Rama VI before being returned to The Crown Property.
Noon:
Lunch at a local Thai restaurant.
Afternoon:
Visit Sunanthalai Building, a Neoclassic architecture built by King Rama V's order as a memorial hall for Queen Sunanthakumarirat, who died in a boat accident. This building was originally named after the queen and used as a school. It was was later changed into Rajini School up until the present.
–
Visit Deva Manor, once the Grand Villa of Dheves Palace. Tasked by King Rama V to Italian engineer/architect Carlo Allegri, it was a welcome home gift to HM's 12th son, His Royal Highness Kitiyakara Voraluksana (Prince of Chanthaburi), after his graduation from England. In 1932, this villa was sold to Phraya Aniruth-Deva.
17:00
Return to The Siam Society.
                                      The Siam Society reserves the right to change the programme as necessary.
Booking
Important notes:
-The Siam Society may utilise photos taken from study trips, lectures, performances, and other activities as part of its public relations and marketing campaign. These photos, which may sometimes contain image(s) of activity participants, can also be featured on the Society's website and other online social media channels.
The contribution of THB 4,200 (THB 4,700 for non-members) will cover transportation, lunch, gratuities and other costs incurred to make this trip possible. In addition, basic travel insurance is included. There is a 4% surcharge for credit/debit card payment to cover bank charges. Please pay by cash or cheque payable to "The Siam Society". Transfer can also be made to The Siam Society travel account at TMBThanachart Bank (ttb), savings account no. 053-2-18000-7 or by scanning the QR code on your right. Once payment has been made, please fax or e-mail the deposit or transfer docket to us.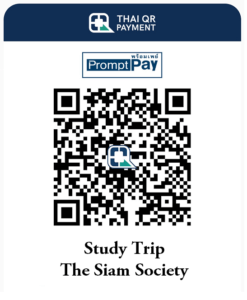 For further information and bookings, please contact Khun Prasert at Tel. 02-661-6470-3 ext. 504 or Khun Supanut Tel. 02-661-6470-3 ext. 506, Fax 02-258-3491 or email: supanut@thesiamsociety.org. The Society office is open from 09:00 to 17:00, Tuesday to Saturday.
More upcoming study trips