"Beautiful Flora at Suan Luang Rama IX Park"
Rama IX Park is the largest green space in Bangkok, boasting a beautiful botanical green, a large lake and gardens inspired by countries around the world. The park was established in 1987 in commemoration of the 60th Birthday of King Bhumibol Adulyadej The Great.
The Ratchamangkhala Pavilion, with its interior showcasing nine mirrored rooms exhibiting various facts of His Majesty's life, artefacts and background information on projects initiated by the royal family, is one of the most iconic structures found inside the park. In addition, you can also find a botanic garden which houses a massive collection of plant species. Organized by their taxonomic and ecological settings, the plants are used for research, conservation and education purposes.
As part of a one-week annual colourful floral fair, "Beautiful Flora at Suan Luang Rama IX Park", organised by the Rama IX Park Foundation during the first week of December, we invite you to join us on a half day trip to experience the hundreds of thousands of blooming tulips and colourful flowers found within the perimeters of King Rama IX Park. The fair also features the display of a wide variety of flowers and decorative plants including rare lotuses, musical performances, traditional shows, and exhibitions.
This trip will be led by Dr Weerachai Nanakorn, 1st Vice President and Honorary Leader of the Natural History Section of The Siam Society. A distinguished plant and botanical expert, Dr Weerachai was also an important figure in the design and development of the magnificent Queen Sirikit Botanic Garden in Chiang Mai. At the present, he currently serves as an Executive Board Member of HM King Rama IX Botanic Garden Foundation and HM Queen Sirikit Park Foundation.
When
Monday, 5 December 2022
Leader
Dr Weerachai Nanakorn, 1st Vice President and Honorary Leader of the Natural History Section
The tentative programme will be as follows:
Monday, 5 December 2022
08:30
Departure from The Siam Society for Rama IX Park in Prawet District, Bangkok
09:30
Guided tour of Rama IX Park in golf carts organized for member's comfort
12:00
Lunch at your own arrangement
13:00
Shopping for exotic and decorative plants
14:30
Return to The Siam Society
                          The Siam Society reserves the right to change the programme as necessary.
Booking
The contribution of THB 900 (THB 1,100 for non-members) will cover transportation, gratuities and other costs incurred to make this trip possible. In addition, basic travel insurance is included. There is a 4% surcharge for credit/debit card payment to cover bank charges. Please pay by cash or cheque payable to "The Siam Society". Transfer can also be made to The Siam Society travel account at TMBThanachart Bank (ttb), savings account no. 053-2-18000-7 or by scanning the QR code on your right. Once payment has been made, please fax or e-mail the deposit or transfer docket to us.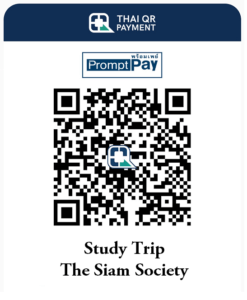 Important notes:
– The Siam Society may utilise photos taken from study trips, lectures, performances, and other activities as part of its public relations and marketing communication campaign. These photos, which may sometimes contain image(s) of activity participants, can also be featured on the Society's website and other online social media channels.
For further information and bookings, please contact Khun Prasert at Tel. 02-661-6470-3 ext. 504 or Khun Supanut Tel. 02-661-6470-3 ext. 506, Fax 02-258-3491 or email: supanut@thesiamsociety.org. The Society office is open from 09:00 to 17:00, Tuesday to Saturday.
More upcoming study trips