An Expedition to Prehistoric and Early Historic Past in Upper Isan
Udon Thani and Nong Khai Provinces are major cities in the Upper Eastern (Isan) region of Thailand. These two provinces are rich in both natural and cultural heritage. The abundance of natural resources found in both land and water, surrounded by mountainous plains makes the area for suitable for farming. The adjacent Mekong River also serves as an important source of life for all those living in the region. Therefore, it comes to no surprise that the area has played host to human inhabitants since prehistoric times, evidently found through archaeological research and empirical evidence. Examples include those found at Ban Chiang and Phu Phra Bat, revealing how a group of people has lived together as a community since prehistoric times (for more than 3000-4000 BP), before the development of the community, which led to the economic boom and war between kingdoms in each era, intertwining with the history and people in other areas such as Vientiane, Sukhothai, Ayutthaya until the present Rattanakosin period.
As a culturally rich region of Thailand with exotic landscapes and natural wonders, the Upper Isan provides visitors with lots of amusement and food for thought. This trip will lead participants to various places to learn, discover, and experience the deep and significant cultural history of people. We will visit one of the only three prehistoric copper production sites in Southeast Asia, namely Phulon in Nong Khai Province. Participants will also enjoy the discovery of amazing complex and hybrid of cultural and natural heritage at Phu Phrabat Historical Park and associated sites in Udon Thani. Last but not least, you will have the opportunity to experience breathtaking landscapes along the banks of the Mekong River.
Dr Thanik Lertcharnrit is an Associate Professor of Archaeology and a full-time faculty member at Department of Archaeology, Silpakorn University. He earned his BA with honours in archaeology from Silpakorn University in Bangkok, MA and PhD from Department of Anthropology, Washington State University in Pullman, Washington, USA. During the past 30 years, he embarked on numerous archaeological research and excavations of prehistoric sites in central Thailand, and has published a number of articles on the subject.
When
Saturday, 17 to Sunday, 18 December 2022
Leader
Dr Thanik Lertcharnrit, Associate Professor of Archaeology, Silpakorn University
The tentative programme will be as follows:
Saturday, 17 December: Bangkok – Udon Thani – Nong Khai
–
Self check-in at Don Mueang Airport, Thai Lion Air check in counter.
06:05
Depart Don Mueang to Udon Thani by Thai Lion Air flight SL600
07:10
Arrive at Udon Thani Airport. Transfer for breakfast at a local restaurant.
Morning:
Visit Phu Phra Bat Historical Park and the associated sites in the area.
Noon:
Lunch at a local restaurant.
Afternoon:
Proceed to Wat Non Sila Ad, discover the ancient Sema Stone preserved inside the temple.
–
Then, continue to Wiang Kuk, pay a visit to Wat Thepphon, Wat Yod Keaw, and more.
Continue to Nong Khai, a major city on the Mekong riverbank.
Evening:
Dinner and overnight in Nong Khai.
Sunday, 18 December: Nong Khai – Bangkok
–
Breakfast and check out of the hotel.
Morning:
Proceed to Phu Lon at Sangkhom district.
Enroute:
Stopover at Wat Pha Tak Suea, a local temple with a good viewpoint of Mekong river.
–
Visit Wat Tham Khao Kiribunphot, this temple occupies a copper mine dated to the pre-historical period.
Noon:
Lunch at a local restaurant.
Afternoon:
Travel back to Udon Thani. Along the way, a stopover at Wat Hin Mak Peng.
18:50
Depart Udon Thani to Bangkok by Thai Lion Air flight SL611
19:55
Arrival at Bangkok Don Mueang Airport.
                        The Siam Society reserves the right to change the programme as necessary.
Booking
The contribution of THB 18,500 (THB 19,500 for non-members), single room surcharge THB 650, will cover domestic airfare, transportation, meals as mentioned in the programme, accommodation for 1 night (two persons per room), entrance fee, gratuities and other costs incurred to make this trip possible. In addition, basic travel insurance is included. There is a 4% surcharge for credit/debit card payment to cover bank charges. Please pay by cash or cheque payable to "The Siam Society". Transfer can also be made to The Siam Society travel account at TMBThanachart Bank (ttb), savings account no. 053-2-18000-7 or by scanning the QR code on your right. Once payment has been made, please fax or e-mail the deposit or transfer docket to us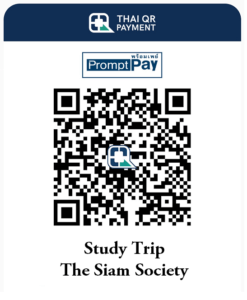 Important notes:
The Siam Society may utilise photos taken from study trips, lectures, performances, and other activities as part of its public relations and marketing communication campaign. These photos, which may sometimes contain image(s) of activity participants, can also be featured on the Society's website and other online social media channels.
For further information and bookings, please contact Khun Prasert at Tel. 02-661-6470-3 ext. 504 or Khun Supanut Tel. 02-661-6470-3 ext. 506, Fax 02-258-3491 or email: supanut@thesiamsociety.org. The Society office is open from 09:00 to 17:00, Tuesday to Saturday.
More upcoming study trips