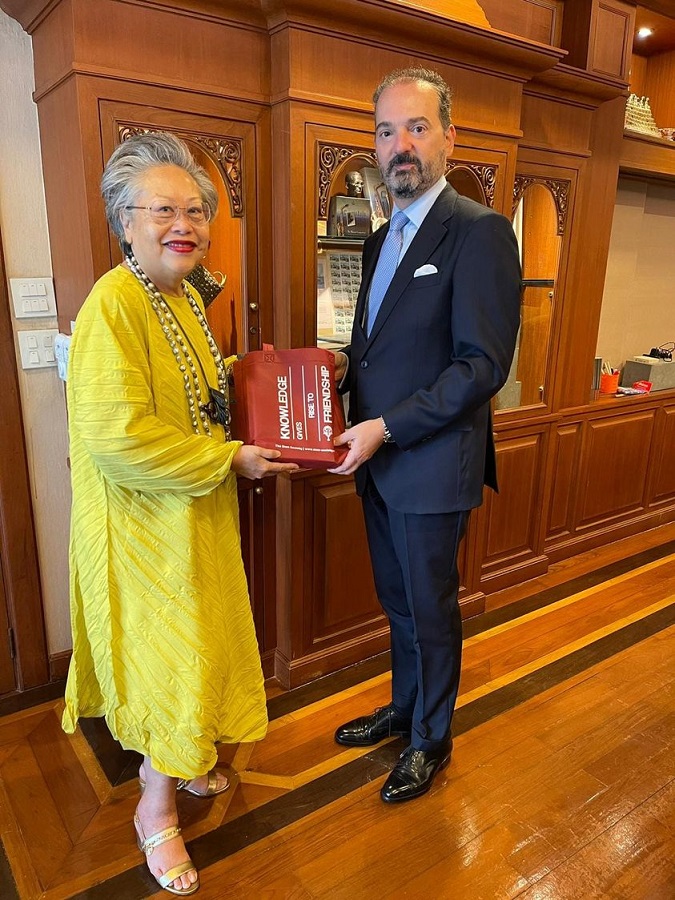 Visit by the Ambassador of Italy to Thailand
On Wednesday, 23 November 2022, His Excellency Mr Paolo Dionisi, Ambassador of Italy to the Kingdom of Thailand, paid a visit to The Siam Society Under Royal Patronage and was welcomed by President Bilaibhan Sampatisiri.
During the visit, both sides seek to establish a cultural collaboration through a number of activities, with the aim of showcasing the beauty and essence of Thai and Italian culture through different dialogues. This includes the possibility of arranging a study trip to Italy, particularly the city of Rome, a  city filled with an abundance of historical wonders and mysteries. At the same time, both sides  also discussed the possibility to build upon the successful screening of the Italian documentary "ME AND THE MAGIC DOOR- discovering Italian architectures in Thailand", which was earlier conducted in collaboration with the previous Italian Ambassador to Thailand in August 2022.
Given the fact that Italy has always been at the forefront in taking a leading role in cultural heritage protection and conservation at the international levels, evidently seen through its multiple diplomatic, foreign policy, and cultural diplomacy, The Siam Society, being one of Thailand's oldest cultural organisation, looks forward to closely working with the Embassy of Italy in Bangkok in its ongoing mission to promote and raise the visibility of cultural heritage conservation to those in Thailand and Southeast Asian region.