1a. Roberts Treaty, 1833
Royal Gifts from Thailand
Smithsonian – Gallery 1
Flag of Siam
Hand-painted cotton, appliquéd
Gift of King Chulalongkorn, 1881
Harris Treaty Revisions Gifts
Department of Anthropology, cat. no: E168493
180.3 cm length x 270.45 cm width
Mat with yellow and burgundy plaid pattern
Su'a Toei
Pandanus leaf
Gift of King Chulalongkorn, 1904
Louisiana Purchase Exposition
Department of Anthropology, cat. no: E235991
160 cm length x 56 cm width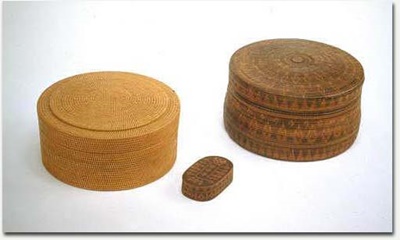 Betel Baskets
Klong samrap sai mak
Gift of King Chulalongkorn, 1876
Siam Exhibit, Centennial Exposition
Gift of King Chulalongkorn, 1904
Siam Exhibit, Louisiana Purchase Exposition
Department of Anthropology, cat. no: E27197
Department of Anthropology, cat. nos: E234036, E234037
Prayer Fan, Detail of Ivory
Ta la pat
Gift of King Chulalongkorn, 1876
Siam Exhibit, Centennial Exposition
Ivory, silk, and gold threads
Department of Anthropology, cat. no: E27267
98 cm length x 40 cm width
The Treaty of Amity and Commerce, 1833
The Smithsonian Institution's collection of Thai Royal Gifts to the Presidents and people of the United States are an important part of the diplomatic history of our two nations. Siam (now the Kingdom of Thailand) was the first Asian nation to sign a treaty with the United States.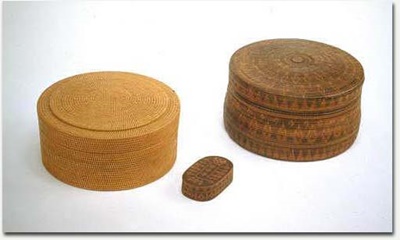 Following soon after British envoy Henry Burney's successful 1829 mission to Siam, American special agent Edmund Roberts, who had been sent to Bangkok by President Andrew Jackson, arrived in Siam in February 1833 aboard the frigate USS Peacock. His mission was to negotiate a treaty of friendship and commerce.
The exchange of gifts of state was an important part of such missions, and Edmund Roberts prepared the American gifts carefully. Unfortunately, due to the delay of the ship carrying the gifts of the President, the Peacock was forced to leave port without the official gifts and he had to settle for giving the king inferior trade goods from China, while waiting for the official gifts. Roberts in turn received a gift on behalf of the US that was strange to him, a collection of riches from the rain forests of Thailand, a gift that he summarily dismissed in his journal.
Nevertheless, as a result of the Roberts mission, a long-lasting friendship was formally established between the two nations. H.M. King Nang Klao, Rama III (r.1824-1851) oversaw this treaty between the United States and Thailand, which became known as the "Roberts Treaty" or "Treaty of Amity and Commerce" of 1833. Unfortunately, because of a cultural misunderstanding, and because of the perishable nature of that royal gift (a collection of rare rainforest products), the Royal Gifts were not retained by the US government. Happily, history has left us with a list of those items.
In his journal, Roberts wrote, "Yesterday and today a variety of presents was sent to the Envoy, from the Chao Phia Phra Klang (sic) [the Thai equivalent of foreign minister]. They consisted of elephant's teeth (sic) [tusks], sugar (nam tan), sugar-candy, pepper, cardammus [Amomum krervanh, or Elettaria sp.] (krawan) gambooge (sic) [Garcinia hanburyi] (rong tong), agila [Aquilaria agallocha] (maykrisana), sopan [sapanwood (Caesalpinia sappan) used for red and violet dye, but also used medicinally throughout Southeast Asia] wood (sic) [Caealpinia sappan] (mayfang), etc."
Note: The original Royal Gifts accompanying the Treaty of Amity and Commerce, such as raw elephant ivory and plant products, have not survived in collections. Later gifts, such as these decorative pandanus mat,woven betel basket, and hand-worked elephant ivory (from a fan handle), are illustrated here.