Musicians
Inga Causa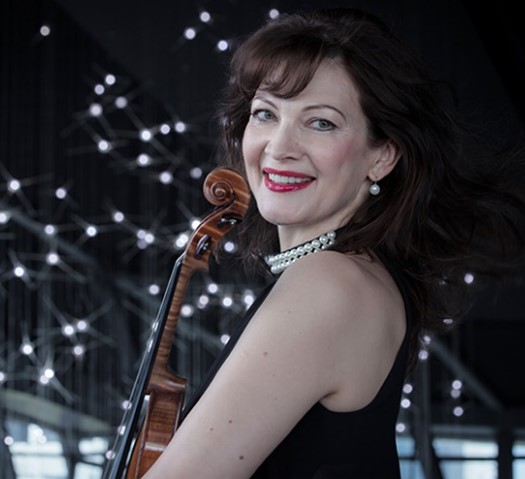 Violinist Inga Causa earned her musical education in Latvia. She started to practice violin at the early age of 6. Inga studied at the Riga Special Music School named after Latvian composer Emils Darzins. This school gives to the world-famous cellist Misha Maisky, violinist Gidon Kremer, and conductor Maris Jansons. For 11 years her teacher was one of the best violin professors in the former Soviet Union, Prof. Izrail Abramiss. Shortly after, Inga continued her education at the Latvian Music Academy with Prof.Juris Shvolkovskis where she graduated with Merit in 1990. At the age of 18, Inga started to work at the Latvian National Opera Orchestra. From 1993-2003, she was a principal of the II violin section at the Latvian National Symphonic Orchestra. With a passion for working in orchestras, she was a member of numerous chamber orchestra groups, including "Rigas Kamermuziki" and " Rigas Philharmonic". In chamber music, she was the first violin of the string quartet " Difference" that won the prestigious opportunity to study with the Ysaye String Quartet in France.
With different orchestras, Inga traveled through Europe and Asia. As a principal of the II violin section of the Latvian National Symphonic Orchestra Inga performed under the baton of worldfamous conductors such as M. Jansons, J.Kakhidze, V.Sinaisky, K.Simonov, T.Mikkelsen, and many others. In November 2003, she arrived in Thailand to become a teacher of violin, ensemble, and string quartet at the College of Music Mahidol University. Her students frequently are among the winners of prestigious competitions in Thailand. Currently, Inga is the principal II violin of the Thailand Philharmonic Orchestra.
Dr. Mahakit Lerdcheewanan
He is the Lecturer in Violin and a member of Faculty String Quartet at the College of Music Mahidol University in Thailand; he is the Assistant Concertmaster of the Thailand Philharmonic Orchestra.
His orchestral experience includes several orchestras in the USA, such as Baton Rouge Symphony Orchestra, Acadiana Symphony Orchestra, and Lake Charles Symphony Orchestra. In Thailand, He performed mostly with Thailand Philharmonic Orchestra and Siam Sinfonietta and toured in numerous countries in Europe and Asia.
He won second prize in Beethoven Thailand National String Competition in 2012. Later in 2014, he won first prize in the Princess Galyani Vadhana International Ensemble Competition serving as a concertmaster of the ensemble and won the third prize in a piano trio category in the same competition.
Mahakit has a lot of passion for contemporary music. He premiered several works for solo violin and chamber music by composers from Thailand, the USA, China, Greece, Iran, etc. In 2019, a rising star Thai composer, Anantasit Na-Gnam dedicated a violin concerto to Mahakit. He gave a successful world premiere performance of the concerto in the same year. During his study in the USA, he was a member of Constantinides New Music String Quartet which was solely dedicated to contemporary music performance. The ensemble performed regularly in Baton Rouge, USA.
Dr. Daniel Keasler
He is the Lecturer in Viola and Artist in Residence at Mahidol University College of Music in Salaya, Thailand; he is the Principal of the violas in the Thailand Philharmonic Orchestra, is the founder of the Thailand Viola Society and Thailand International Viola Conference. He is also the Treasurer of the International Viola Society.
Danny premiered Horizons for viola, bassoon, and percussion by Roger Peterson and Kyrie for viola and piano by Thomas Hyuk Cha. The works were premiered at the Thailand International Composition Festival in 2012. Other premiers include Backward then Forward by James Ogburn, Beam 2 Judy Bozone, and Memories of Maldives by Thomas Hyuk Cha. Danny has been an active recitalist and performer in the United States and abroad, he has given solo and chamber concerts in Florida, Georgia, Alabama, Thailand, Poland, Portugal, and New Zealand.
Always striving to promote viola and violists worldwide, he founded the Thailand Viola Society that has been recognized by the International Viola Society since 2012. In 2014, he founded the first ever Thailand International Viola Conference which hosted 13 events including a concerto performance by Dr. Pamela Ryan with the Thailand Philharmonic Orchestras. Masterclasses and recitals were given by Thai and International performers from Australia, America, and Germany. The conference was written about in the November 2014 Australian and New Zealand Viola Society Journal. Dr. Keasler has written an article in the November 2014 Journal for the American Viola Society called "Alfred Uhl's Viola Etudes: Studies with a Heart". He has interviewed and wrote articles in the Mahidol College of Music Journal about Dr. Juliet White-Smith, Dr. Jeffery Meyer, and Jennifer Stumm.
His orchestral experience includes Thailand Philharmonic Orchestra, Tallahassee Symphony Orchestra, Augusta Symphony Orchestra, Columbus Symphony Orchestra, Mobile Symphony Orchestra, Pensacola Symphony Orchestra, Sinfonia Gulf Coast, Northwest Florida Symphony Orchestra, Albany Symphony Orchestra, Orlando Philharmonic, Ocala Symphony Orchestra, Space Coast Pops Orchestra, and Brevard Symphony Orchestra. Danny Keasler received his Doctorate in Viola Performance from Florida State University where he was a graduate assistant. While at FSU, he performed in over forty chamber concerts in addition to numerous solo and orchestral performances. While at FSU, he was Chairman of the Florida State College of Music Allocation Committee which was responsible for funding the colleges' many students organization. Also, an avid singer, he was selected for FSU's top graduate Chamber Choir under the direction of Dr. Andre Thomas.
During his academic pursuits, Danny studied viola with Dr. Pamela Ryan, Dr. Alvaro Gomez, and Dr. Routa Kromouvitch-Gomez. He has performed in master classes for Patricia MaCarthy, Jeffrey Irvine, Kenneth Martinson, Daphne Gerling, William Goodwyn, and Robert Burns.
Marcin Szawelski
A keen educator, cellist Marcin Szawelski has taught cello and chamber music at the College of Music, Mahidol University since 2006, where he currently serves as chair of the String & Chamber Music Department. Besides his lecturing duties, he has written two textbooks: "Elementary Techniques and Fundamental Warm Ups for Cellists with a Selection of Compositions by H.R.M. King Bhumibol Adulyadej" (2017) and "Manual of Selected Orchestral Excerpts for Cello" (2019) in order to supplement the existing pedagogical literature for cellists at multiple levels.
In addition to lecturing at the College of Music, since 2006 Marcin has enjoyed his career as a cellist with Thailand Philharmonic Orchestra (TPO) where he is currently Principal Cello; to date, he has given more than 600 performances with the TPO. His extensive experience as an orchestral musician has led him to numerous collaborations with countless international soloists and on orchestra tours in Japan, New Zealand, Laos, Myanmar and Malaysia. Marcin's passion for teaching and education extends into orchestral coaching as well: since 2007 he has been a cello instructor for SAYOWE (Southeast Asian Youth Orchestra and Wind Ensemble) and SEAYCO (Southeast Asian Youth Chamber Orchestra).
Marcin Szawelski's love of chamber music is another important driving force in his musical endeavors. He collaborates in various chamber ensembles like The Lermontov String Quartet, International Quintet and the AmaCor Trio; his chamber music partners include illustrious personalities such as Dr. Eri Nakagawa, Dr. Korak Lertpibulchai, Dr. Paris Paraschoudis, among others.
A native of Gdańsk, Poland, Marcin Szawelski started his musical training at the age of 7 with Andrzej Filar, and later continued his studies at the Liceum Muzyczne im. F. Nowowiejskiego in Gdańsk where he earned a Diploma in Cello performance. He subsequently earned a Master of Arts in Cello Performance (2005) from Stanisław Moniuszko Academy of Music in Gdańsk where he studied cello performance, chamber music and music pedagogy under professors Krzysztof Sperski, Anna Prabucka-Firlej, and Tadeusz Samerek, winning numerous awards and prizes in regional and national competitions during his musical studies. His artistic mentors and musical influences include renowned cellists such as Stefan Popov, Maria Tchaikovska, Peter Leisegang, and Roman Jablonski.
When
Wednesday, 1 March 2023 at 19:00
Where
Auditorium, The Siam Society
Admission
Members – 600 baht
Non-Members – 900 baht
Students with ID – 300 baht
Wine will be on sale.
For reservation, please contact:
The Siam Society
131 Asoke Montri Road (Sukhumvit 21), Bangkok 10110
Tel: 02-661-6470-3 ext 201
(Please contact us during office hours)