สยามสมาคมฯจัดพิมพ์หนังสือที่ระลึกเนื่องในวาระพิเศษต่างๆ หนังสือเหล่านี้เขียน แปล และเรียบเรียงโดยนักวิชาการชั้นนำที่มีชื่อเสียง เป็นการรวบรวมบทความและงานอ้างอิงทางวิชาการใหม่ที่เขียนขึ้นในช่วงเวลานั้นๆ ทั้งนี้ยังรวมไปถึงบทแปลของเอกสารโบราณชั้นต้นฉบับต่างๆที่สำคัญ และงานเขียนอื่นๆที่เกี่ยวข้องในหลากหลายเรื่อง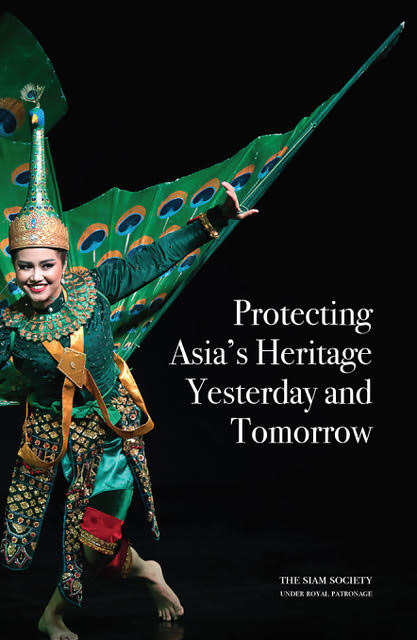 Protecting Asia's Heritage Yesterday and Tomorrow
Asia's splendid heritage is at risk—from rapid economic growth, government neglect, and poorly managed tourism. But people have become passionately involved in protecting Asia's heritage—as activists, organizers, critics, teachers, artists, and entrepreneurs. Last year a group met at a conference hosted by the Siam Society to share their experience on what has been done in the past, and their ideas on what should be done in the future. These are now published in Protecting Asia's Heritage Yesterday and Tomorrow (The Siam Society and Silkworm Books, 2020). Twelve authors from eleven of the region's countries discuss issues of law, principle, and practicality in preserving old Siamese temples, Korea's religious murals, urban neighbourhoods in Beijing, Laotian textiles, Javanese ruins, Cambodian performing arts, old quarters of Bangkok and George Town, creative arts of the Philippines, Calcutta's legacy of colonial architecture, China's historic salt industry, and the Burmese cat. The group has since set up the ASEAN Heritage Alliance.
The book will be available for purchase at https://silkwormbooks.com/products/protecting-asias-heritage
Protecting Siam's Heritage
The cultural heritage of Siam is exceptionally rich and very distinctive. As everywhere, this heritage is under threat – from the pace of change, from the demands of tourism, from mismanagement, and from neglect. Today there is a growing awareness of the value of Siam's heritage and the need to protect it. This book is the first to examine the issues and challenges.
The book originated as the centenary edition of the Journal of The Siam Society, one of Asia's oldest and most prestigious cultural journals. The Siam Society has just created the Siamese Heritage Trust to raise awareness of heritage issues. The authors of the 20 essays include the pioneers of conservation over the last generation, along with the activists of today.
The first part looks back, tracking the change from a traditional approach of 'renovation' to the modern concept of conservation, reviewing the roles of pioneers of heritage protection, and tracing the origins of today's problems. The second part presents contemporary case studies on the issues facing different types of heritage, ranging from monuments to intangible heritage, and the special cases of atrocity and transboundary heritage. Several contributions examine live controversies over conservation in Central Bangkok.
The final section brings in international perspectives, including the impact of the World Heritage system, and developments in Penang and Yangon.
The collection illustrates the complexity of the issues involved, and the passions they raise. As Dr Piriya Krairiksh asks in the lead essay: "So will there be a future for heritage protection in Thailand?".
Heritage Lawyer: Laws for Cultural Heritage Protection
By Siamese Heritage Trust
Siamese Heritage Trust of The Siam Society launched its new publication "Heritage Lawyer: Laws for Cultural Heritage Protection" during the Pan-Asian conference "Heritage Protection: The Asian Experience" which took place during 25-26 January 2019. The book was first published in Thai as ทนายวัฒนธรรม: ใช้กฎหมายเพื่อคุ้มครองมรดกวัฒนธรรมชุมชน in June 2017.
It summarises case studies of communities and private sectors that tried to protect their community heritage by using the existing laws. There are both successful and unsuccessful stories. In the last chapter, all laws related to cultural heritage protection are listed as a reference and tool for the public.
The whole project of community forums and book printing in its first stage was supported by The Asia Foundation, Professor Kanung Luchai's Foundation, and Professor William Klausner. Mrs Pikulkeaw Krairiksh, President of The Siam Society, kindly gave generous support to the English version. The book was translated by Mr Visanu Euarchikiati, Siamese Heritage Trust Committee Member, and edited by Dr Chris Baker, Acting Third Vice-President of The Siam Society and Honorary Editor of JSS.
You can obtain a free hard copy of both versions at The Siam Society. For more information, please contact Khun Jarunee at: jarunee@thesiamsociety.org.
Download Free E-books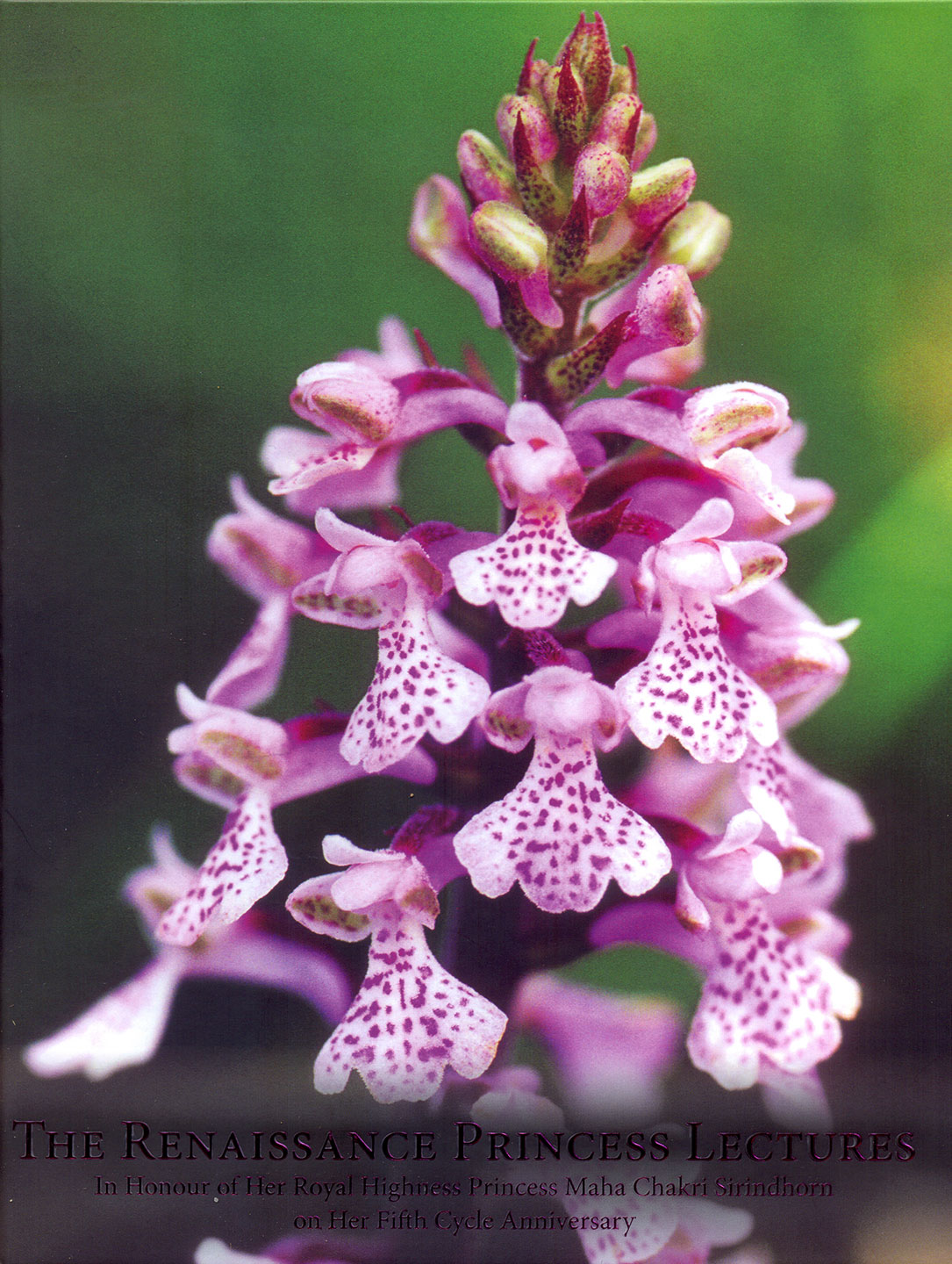 The Renaissance Princess Lectures: In Honour of Her Royal Highness Princess Maha Chakri Sirindhorn on Her Fifth Cycle Anniversary
by Thanpuying Tasniya Punyagupta, Toem Meetem, Weerachai Nanakorn, Piriya Krairiksh, Martin Polkinghorne, Christophe Pottier and Christian Fischer, Chris Baker and Pasuk Phongpaichit, Dhiravat na Pombejra, John Guy, ML Pattaratorn Chirapravati, and Peter Skilling
Non-Member: THB 1,200 / Member: THB 1,000
A distinguished scholar, historian, linguist, author, musician and artist, HRH Princess Maha Chakri Sirindhorn deserves to be recognised as Thailand's "Renaissance Princess" for her many talents and outstanding record of public service. In celebration of Her Royal Highness' fifth cycle anniversary and to honour her many accomplishments, The Siam Society invited prominent scholars in the fields of history, art history, archaeology and culture to present lectures on their recent research and fields of interest.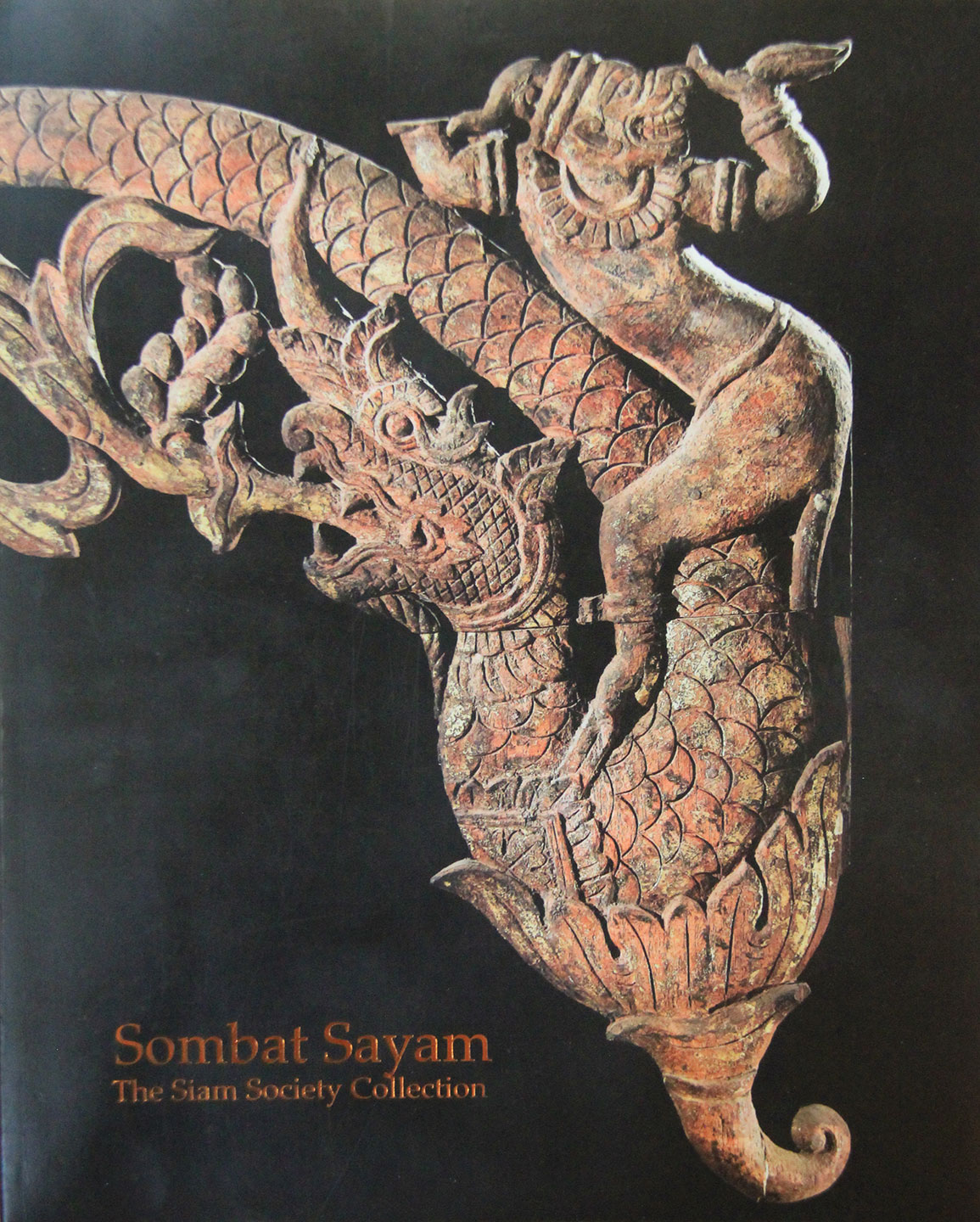 Sombat Sayam: The Siam Society Collection
Prepared by: Eileen Deeley, Euayporn Kerdchouay, Rita Ringis, Dawn F. Rooney, Thweep Rittinaphakorn, Ruth Gerson, Chris Baker, and Pairin Kankaew
Non-Member: THB 1,200 / Member: THB 1,000
Over more than a century, The Siam Society has acquired many beautiful, valuable and historically important objects, mostly as donations from members and friends. This book presents a selection of the best in the collection, including woodcarvings, Buddha images, paintings, textiles, ceramics, maps and masks.
Each piece has been identified and explained by a team of experts. All have been beautifully photographed by Pairin Kankaew.
This sumptuous book is a perfect gift – to yourself or to someone else.
Before Siam: Essays in Art and Archaeology
Edited by Nicolas Revire & Stephen A. Murphy
Non-Member: THB 1,000 / Member: THB 900
The birth of Siam has been traditionally marked by the founding of the great city-states of Sukhothai and Ayutthaya respectively. These civilisations, however, grew out of a rich milieu of cultures and traditions in the region present from as far back as prehistoric times. Whether the Mon Buddhism that flourished during the so-called Dvaravati period, the architectural heritage of the Khmers or the Brahmanical and Mahayana stimuli of the Malay Peninsula, these varied aspects and influences came together to shape what became early Siam and today modern Thailand.
The aim of this peer-reviewed publication is to present new research and discoveries to reconstruct the cultures, religious persuasions and artistic traditions in pre-modern Thailand and its neighbouring regions. Through a large array of contributions by renowned experts, the public and academics alike will gain a richer and more multifaceted appreciation of this early history which played such a formative role in the birth of Siam.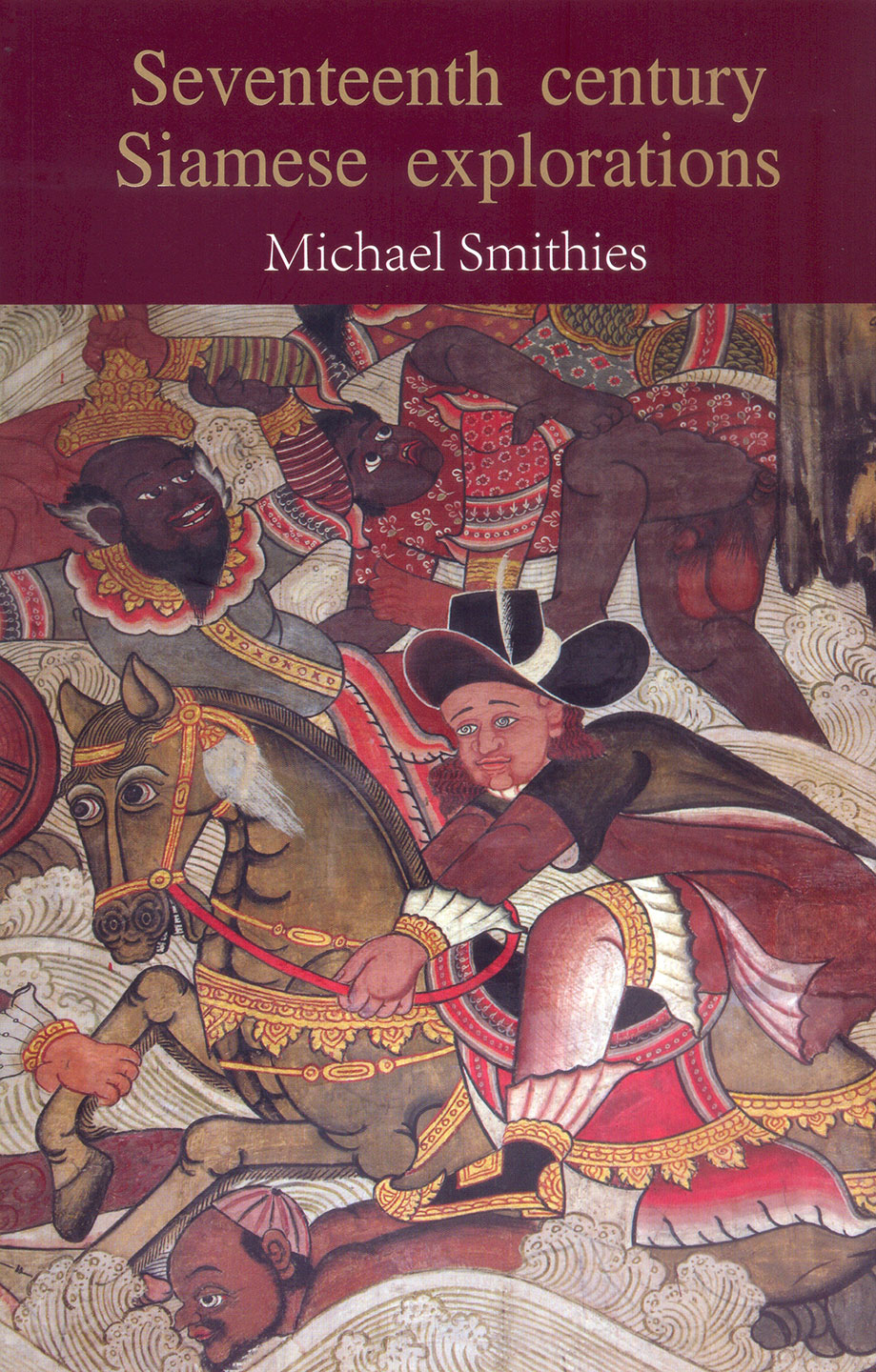 Seventeenth Century Siamese Explorations
Non-Member: THB 500 / Member: THB 400
In the seventeenth century, Siamese explored Europe and Europeans explored Siam. Some of these explorations resulted in enlightenment and discovery, others in deception and death.
In this collection of 20 articles, Michael Smithies recounts both the grand dramas in this cultural collision as well as some more obscure but perhaps more telling tales. What really happened during the Macassar Revolt? What became of Madame Constance's jewels? What trail of events brought cadet Beauregard to an untimely death in Pegu? How did Robert de Challe write books on Siam without ever visiting the country? How did a lion arrive in Narai's Lopburi, and what was its fate? Was the Jesuit Guy Tachard a saint or a schemer? How did Europeans become governors of Siam's three major ports, and what became of them? What are the true details of Constance Phaulkon's final hours?
Michael Smithies published 60 books and 55 articles on Southeast Asia, with a concentration on Siam in the seventeenth century.
Five Hundred Years of Thai-Portuguese Relations: A Festschrift
Edited by Prof Michael Smithies
Non-Member: THB 500 / Member: THB 450
One does not often get the chance to celebrate 500 years of smooth diplomatic relations, so this year the Thai and Portuguese governments are making the most of the occasion.
The Siam Society Under Royal Patronage was invited by the Thai Ministry of Foreign Affairs to produce a volume in English to mark the event, and the Society commissioned one of its Honorary Members, historian Professor Michael Smithies, to compile the book. He contacted specialists in the field for contributions and included a few articles which had already appeared in print and were relevant, filling some of the gaps in the overall picture.
The result is this collection of articles, most being original, a few reprints, which seek to explain and contribute to the mutual respect and understanding of these long-standing and mutually beneficial relations.
Ming Gap and Shipwreck Ceramics in Southeast Asia: Towards a Chronology of Thai Trade Ware
Non-Member / Member: THB 495
Shipwrecks discovered throughout Southeast Asia and the precious cargoes they contain represent invaluable information for the study of ceramics and international trade networks. However, these treasure troves of Thai, Vietnamese and Chinese trade wares have rarely been published. 'The Ming Gap and Shipwreck Ceramics in Southeast Asia: Toward a Chronology of Thai Trade Ware' by Roxanna M. Brown traces the changes and developments in this trade between Southeast Asia and China during the 14th to 16th centuries and in doing so proposes for the first time a chronology of Thai trade wares. With a database presented through 30 tables and over 250 colour illustrations including Sukhothai and Sawankhalok celadon wares, Vietnamese enamels and Chinese blue and white porcelain, this book represents an invaluable work of reference and a visual collection of the beauty of Southeast Asian ceramics.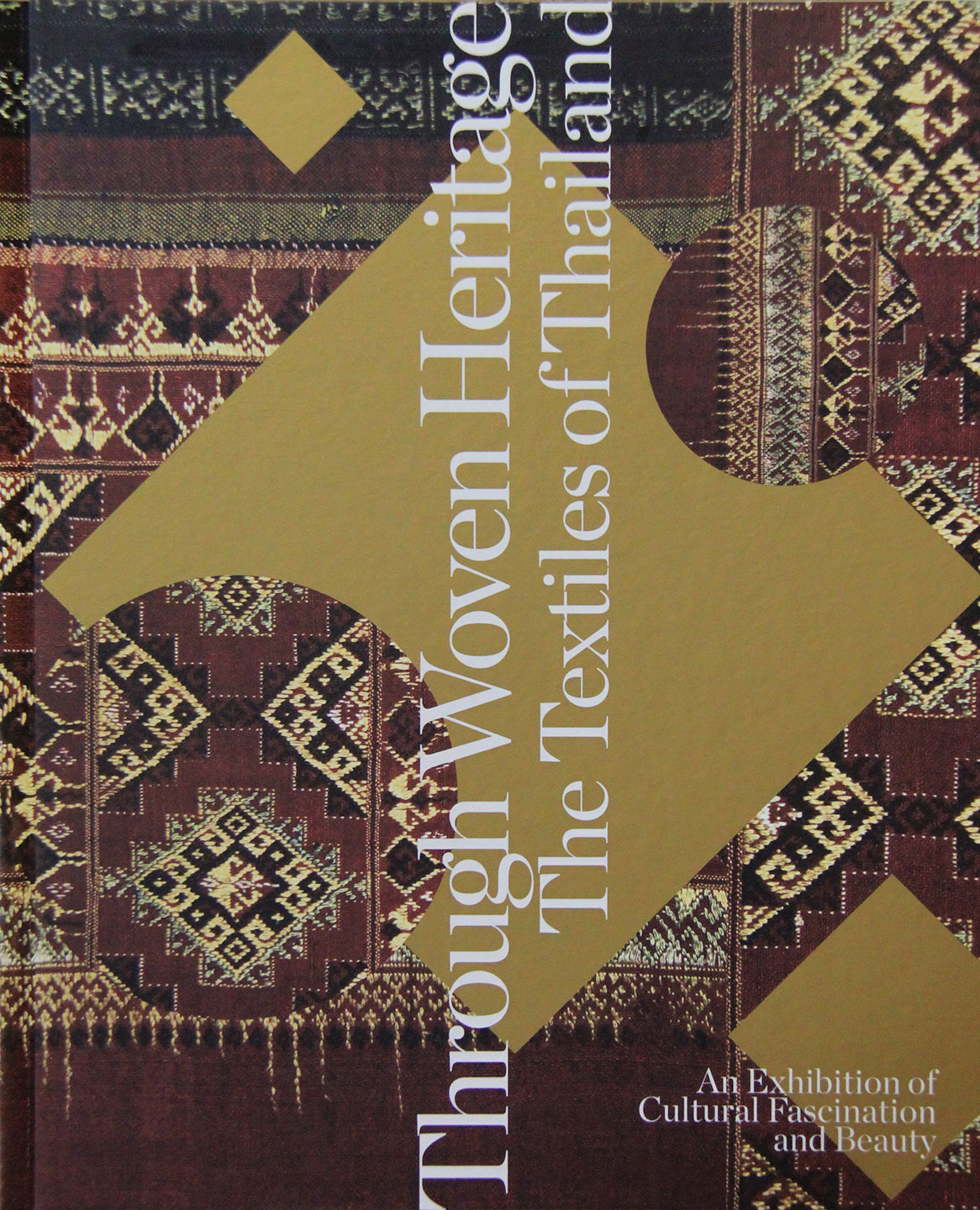 Through Woven Heritage: The Textiles of Thailand
Non-Member: THB 800 / Member: THB 700
Through Woven Heritage: The Textiles of Thailand is a survey of textile use and production in various regions of the kingdom since ancient times. The historical background is presented based on archaeological finds, and the technical aspects of textile production is explained. Each geographical region with its distinctive ethnic composition has nurtured its characteristic styles of weaving. Diffusion from the neighbouring cultures of Burma, Laos, Cambodia, and Malaysia has also enriched the textile traditions of the Thais. In the past, luxurious fabrics designed for aristocratic functions, court wear and royal ceremonies were imported from China and India.
By HRH Princess Galyani Vadhana Krom Luang Naradhiwas Rajanagarindra
Non-Member: THB 700 / Member: THB 600 (SOLD OUT)
As Mother Told Me is the personal story of the late Princess Mother (1900-1995) from her humble origins in a commoner family in Thonburi, to her eventual rank as mother to two Thai kings. Recorded as a memoir by her only daughter, HRH Princess Galyani Vadhana Krom Luang Naradhiwas Rajanagarindra (1923-2008), it was originally published in Thai in 1980 as Mae Lao Hai Fang, becoming one of the most widely read royal biographies.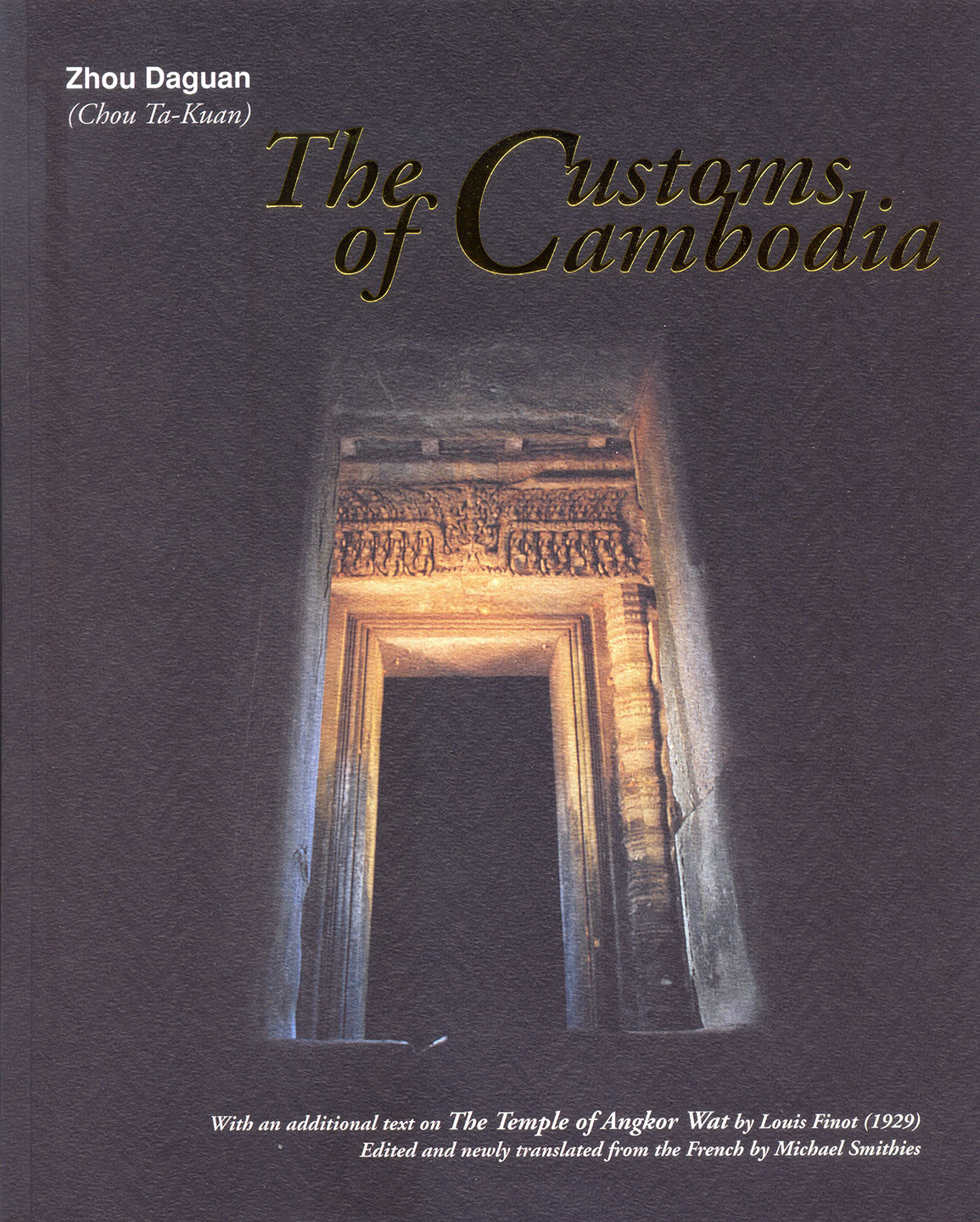 By Zhou Daguan
With an additional text on The Temple of Angkor Wat by Louis Finot (1929) Edited and newly translated from the French by Michael Smithies.
Non-Member: THB 1,295 / Member: THB 980
Zhou Daguan (Chon Ta-Kuan) spent a year in Cambodia from 1297 as part of a Chinese diplomatic mission sent by Timur Khan, the grandson and successor of Kublai Khan, to the court of Indravarman III (reigned 1295–1308). The Khmer empire, though under attack, was still powerful and wealthy. Zhou wrote his account some time before 1312.
The text was translated from Chinese into French by Paul Pelliot and published in 1902. It is here edited and newly translated from the French by Michael Smithies.
This new edition is greatly expanded on previous editions, with far more illustrations, and the whole text has been revised to take account of recent scholarship. It also has the very important additional text of Louis Finot on Angkor Wat, which has been brought up to date by Jacques Dumarçay, and a series of remarkable EFEO photographs from the 1920s illustrating the Churning of the Sea of Milk.
The Siam Society: A Century
Non-Member: THB 600 / Member: THB 500
One hundred years ago, on 26th February 1904, a group of Thais and Western residents of Bangkok gathered at the Oriental Hotel. Their purpose was to establish an organisation that would meet to exchange and disseminate reliable information about the kingdom's history, archaeology, anthropology, languages, natural history, and other subjects.
The Siam Society was the result of the meeting. Over the century since, despite wars and other difficult periods, it has adhered steadfastly to its original aims. It has published an annual Journal as well as a Natural History Bulletin which together cover a wide range of learned studies. In addition it has held regular meetings, offered countless lectures by experts in their field of study, arranged field trips for members to places of interest in Thailand and abroad, and sponsored numerous projects to advance causes as varied as the restoration of temple murals and the importance of environmental conservation.
The centenary book, written by William Warren, not only tells the story of an institution respected worldwide for its learning but also elaborates on some of the remarkable men and women who have been responsible for its achievements.
Footprints of the Buddhas of This Era in Thailand
By Virginia McKeen Di Crocco
Non-Member: THB 500 / Member: THB 450
This book traces the evolution of Buddha Footprints from early origins in India to the creation of magnificent gold version in honour of Queen Sirikit's Fifth Cycle in 1992.
Early Footprints were natural impressions in rock. Later the Footprint became an important medium for illustrating Buddhist cosmology.
Virginia Di Crocco's deeply researched text explains how the iconography changed in Buddha Footprints in Thailand and adjacent areas according to developments in beliefs about the world. The book is a landmark record of the practice of making Buddha Footprints, as well as a contribution to the religious and artistic history of Southeast Asia.
Witnesses to a Revolution: Siam 1688
Edited and translated by Michael Smithies
Non-Member: THB 500 / Member: THB 400
Intrigue, mystery, murder, double-dealing, corruption, and deception are all found in the accounts of the twelve persons (three of whom are anonymous and hitherto unpublished) who describe here their roles in the dramatic events of 1688 in Siam surrounding the coup d'état of Phetracha and the death of King Narai.
The succession was complicated by the role of Constantine Phaulkon, a Greek adventurer who acted, without the title, as minister of foreign affairs and trade, and who cultivated the French presence in the country to support his own position. The French had stationed troops in Bangkok, "the key to the Kingdom" and Mergui, on the Bay of Bengal, and became hopelessly embroiled in events beyond their comprehension, leading to their retreat in November that year.
The Society of Siam: Selected Articles for The Siam Society's
Centenary
Edited by Chris Baker. Bangkok, Siam Society, 2004
Non-Member: THB 800 / Member: THB 700
These articles from the last 50 years of the Journal of the Siam Society show why Thailand is such a fun place to live and to study. The pregnancy of the rice goddess. Cremating an abbot with a tug-of-war. Sexy scenes on wat walls. How to court a northern girl. Karen riddles. Spirit doctors who remove calamity. The varieties of hell. The beauty of rice. Spirit cults. The structure of the monkhood. The Marquis de Sade and Bangkok traffic. The guardians of the city. The cult of the King's Spirit. The door to the underworld. How to sing in Isan. Shadow puppets. Love poetry. Political novels. Historical movies. All this in 409 pages.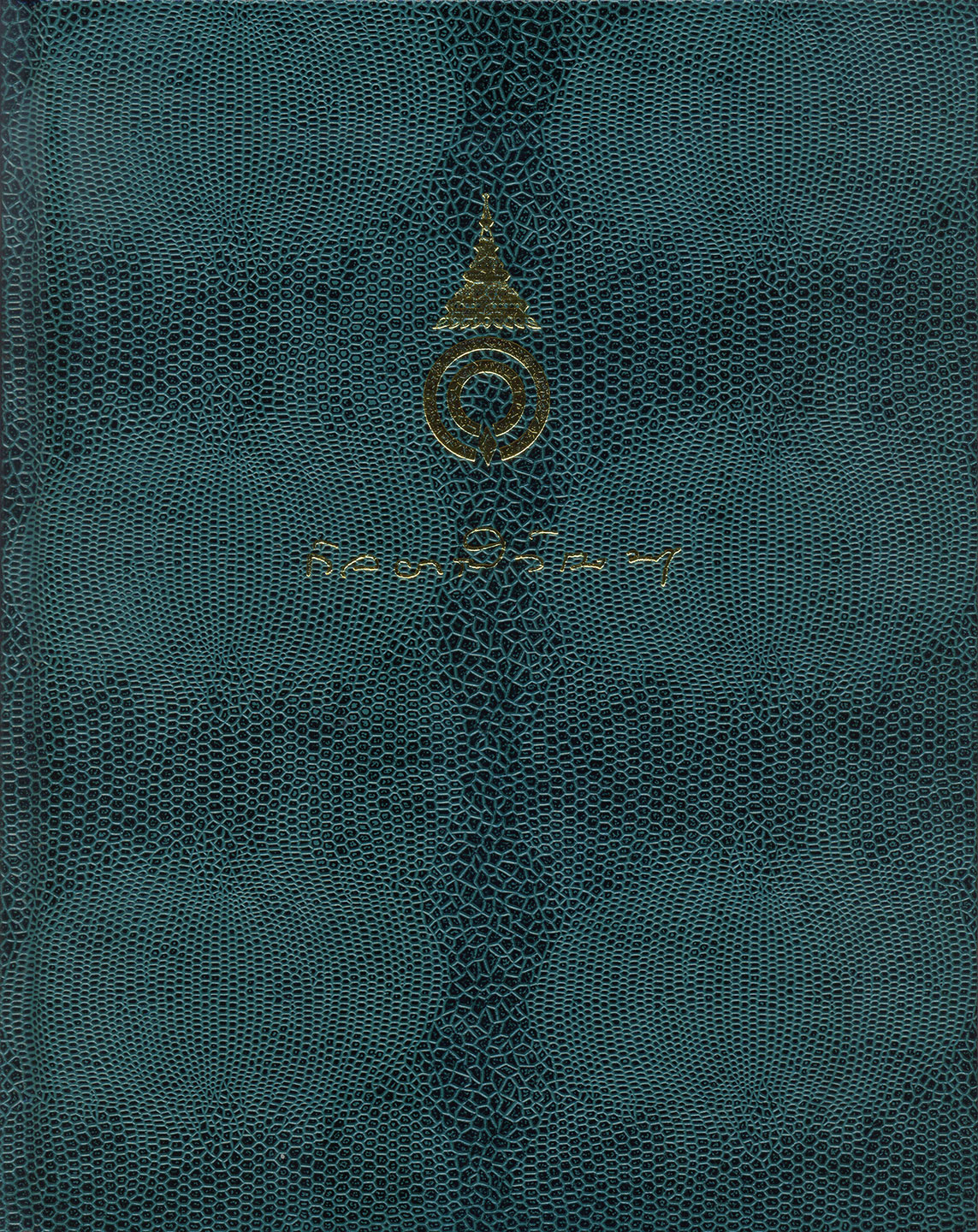 Dedications to Her Royal Highness Princess Galyani Vadhana on her 80th birthday
Non-Member / Member: THB 700
Dedications is a collection of fourteen articles written by the President of the Privy Council and noted scholars working in various fields of Thai studies. The collection was offered to HRH Princess Galyani Vadhana Krom Luang Naradhiwas Rajanagarindra on the auspicious occasion of her eightieth birthday. Her Royal Highness has been Honorary President of The Siam Society since 1984. She was a tireless supporter of the Society's cultural activities, attending many lectures, including those given by some of the contributors to this volume. Her broad interests are reflected in the wide scope of articles, which range from prehistoric excavations to the sets produced for a Thai opera first performed in Bangkok in 2003.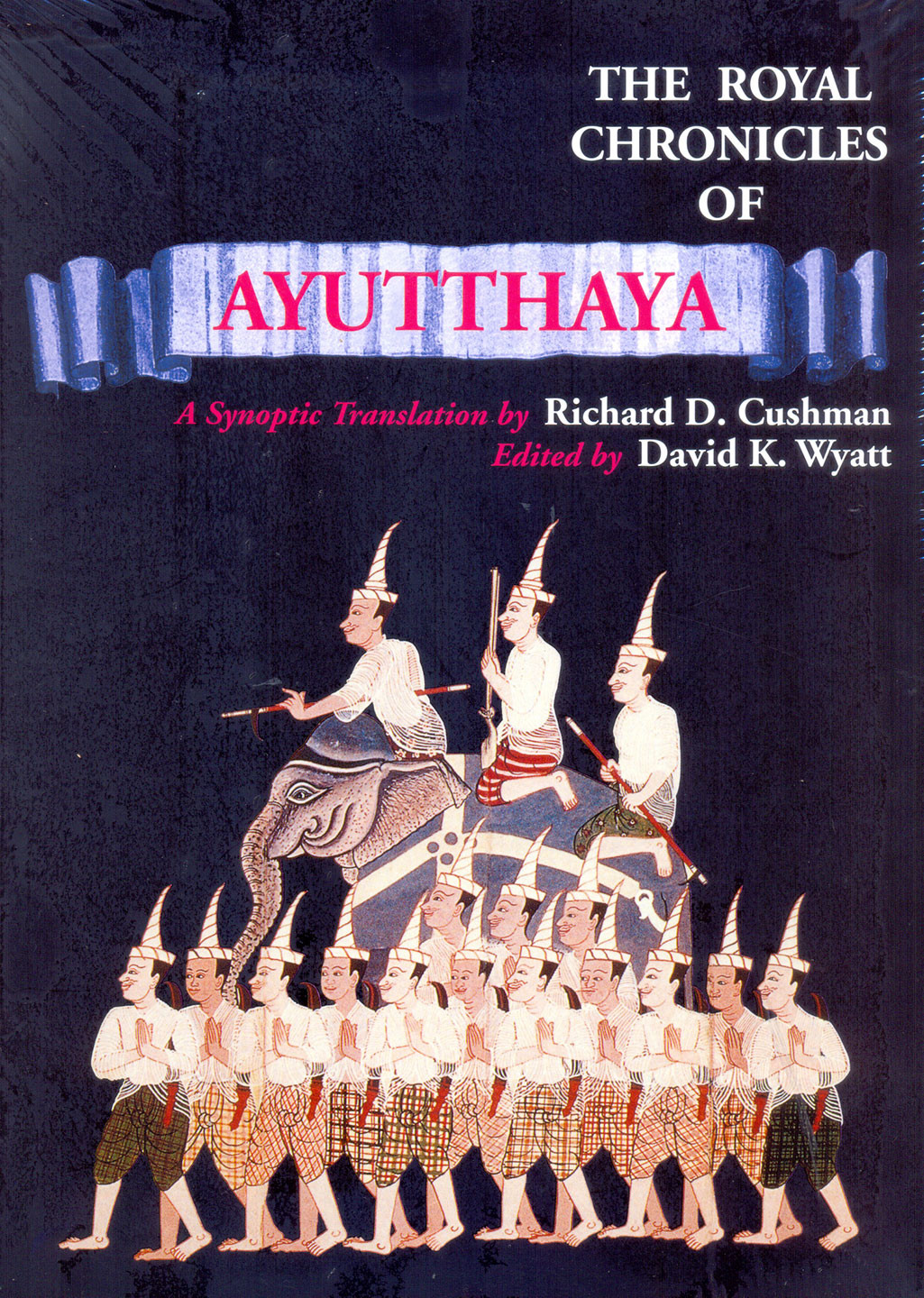 The Royal Chronicles of Ayutthaya –
A Synoptic Translation by Richard D. Cushman.
Introduced and edited by David K. Wyatt.
Non-Member: THB 1,200 / Member: THB 1,000
In the sacking of Ayutthaya in 1767, most of the historical records of the Siamese Kingdom were destroyed. The early Bangkok kings collected what little could be found of the old chronicles. But even most of these collections later disappeared from view. Only later were seven major versions and several smaller fragments rediscovered and published in the original Thai.
In the early 1970s, a young American scholar in Texas, Richard D. Cushman, decided to translate all the known versions of the Ayutthaya chronicles into English, creating a master translation showing all the variations.
David K. Wyatt, the John Stambaugh Professor of History at Cornell University, and translator of several Thai chronicles, edited Cushman's work for publication. Both Professor Wyatt and The Siam Society have ensured that the manuscript is unchanged from Richard Cushman's monumental efforts.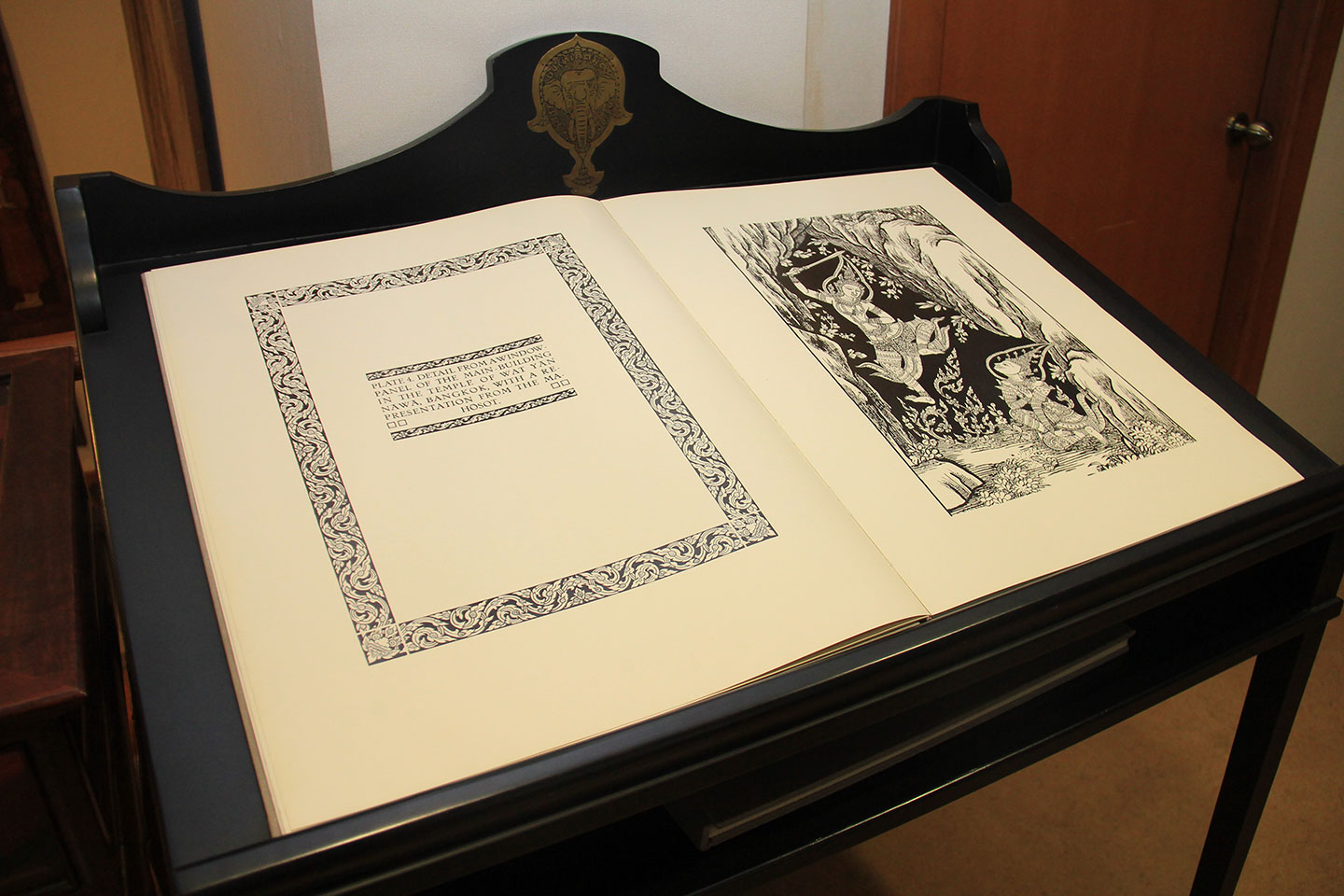 Art and Art-Industry in Siam
THB 3,500 (SOLD OUT)
19″ x 25″, two vols. 1999, ill. (First published in 1915) Baht 5,000 (or equivalent in foreign currency)
This new special limited edition commemorates HM King Bhumibol Adulyadej's Sixth Cycle Anniversary. This extremely rare book, the new edition in a beautiful two-volume set with the brass emblem of the Sixth Cycle symbol on the cover, was one of the first books published in English about Thai art. It is, to this day, considered the most exquisite and the best compiled book on Siamese lacquer work in black and gold. The drawings include significant lacquer works of the Kingdom at the beginning of the twentieth century, most of which have since disappeared, deteriorated, been repainted, or now reside in private collections. Proceeds will go to the Centennial Endowment Fund to ensure continuity of the Society's mission and programs for the next 100 years.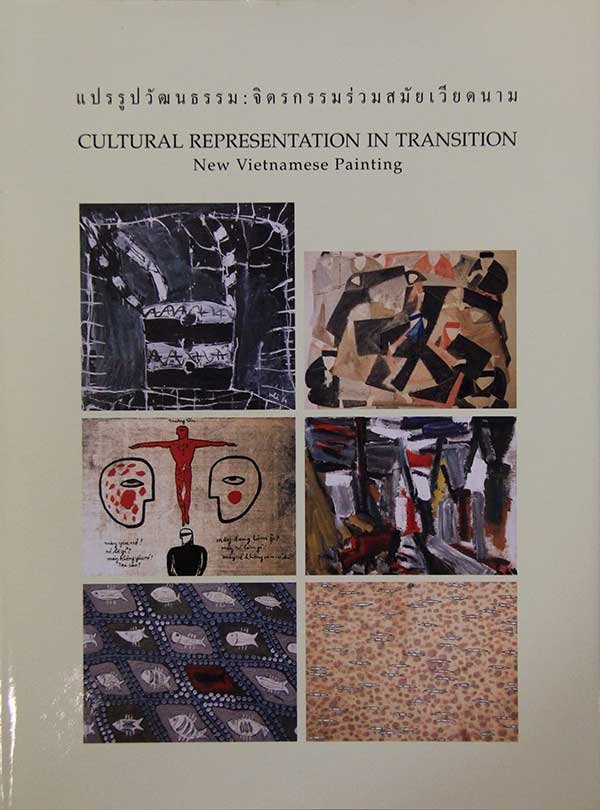 Cultural Representation in Transition: New Vietnamese Painting 1997
Non-Member / Member: THB 300
The arts are flourishing in Vietnam today. Hundreds of painters are at work in Hanoi, Ho Chi Minh City, and other Vietnamese cities. They work in a broad range of styles and themes, building on techniques developed in French colonial times, but related to the issues that concern Vietnamese people today. This full colour trilingual catalogue (English, Vietnamese and Thai) includes essays by Mr Chatvichai Promadhattavedi, Mr Nguyen Quan and Mr Neil Jamieson that make scholarly contributions to the understanding of Vietnamese art.
By William Warren and Ping Amranand, 1996, 240 pp., ill.
Non-Member / Member: THB 400 (SOLD OUT)
A new printing of MR Pimsai's pioneering work, designed "to assist Bangkok gardeners in a practical way." William Warren has brought this classic up-to-date, while retaining MR Pimsai's unique voice, described by John Blofeld as "vivid, natural, and compelling-a style based on the principle that people should write very much as they talk" (from the Preface). Ping Amranand's 136 photographs have been re-edited and integrated with the text.
The Connection Phuket, Penang and Adelaide
By Ian Morson, 1993. 126 pp., ill.
Non-Member: THB 350 / Member: THB 300
An account of Francis Light's 15 years in Phuket before he founded Penang, portraying the peoples of the islands between 1770 and 1794, with an intriguing connection between Phuket, Penang and the city of Adelaide.
Environment and Culture with Emphasis on Urban Issues
Non-Member / Member: THB 150 (SOLD OUT)
Proceedings of The Siam Society symposium in Chiang Mai in February 1992, where 30 distinguished authorities from Thailand, Japan, Malaysia, Singapore and the Philippines presented their views on how to achieve sustainable growth in this urban age, while protecting our fragile environment.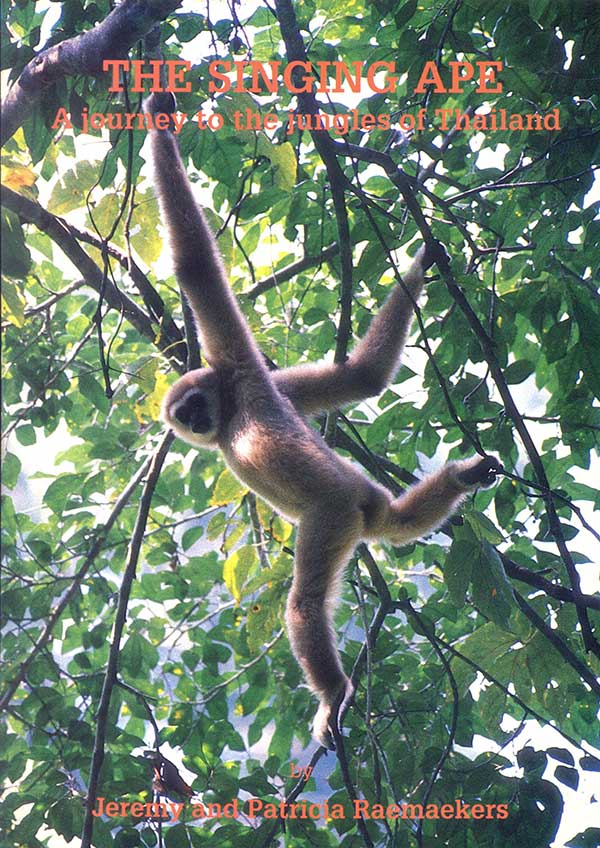 The Singing Ape: a Journey to the Jungle of Thailand
By Jeremy and Patricia Raemaekers, 1990. 142 pp., ill.
Non-Member / Member THB 150
A light-hearted account of the two years the authors spent studying gibbons in Thailand's tropical rain forests.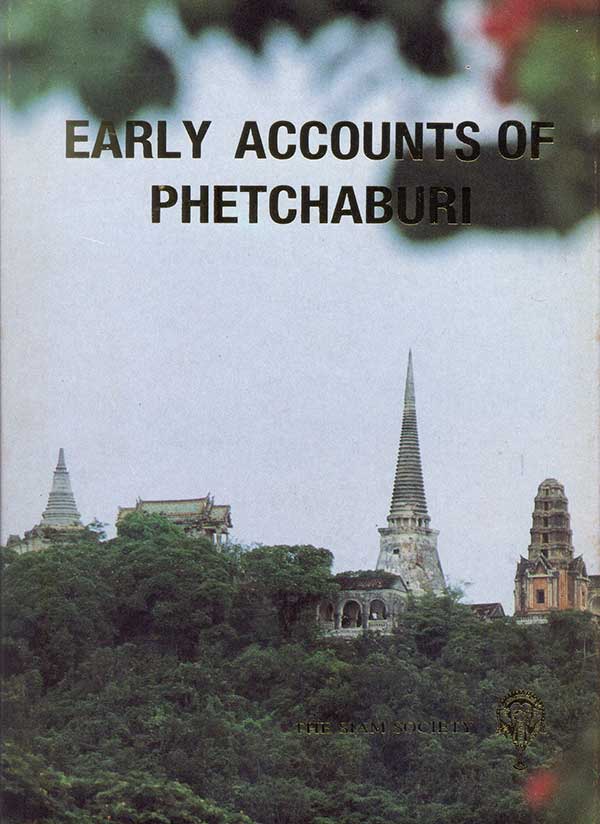 Early Accounts of Phetchaburi
Introduction by Michael Smithies, 1987. 90 pp., ill.
Non-Member: THB 230 / Member: THB 200
Ten essays give a feeling for the enduring attraction of this 19th century point of excursion-popular even before King Mongkut built his palace there on the "Mountain of the Highest Heaven."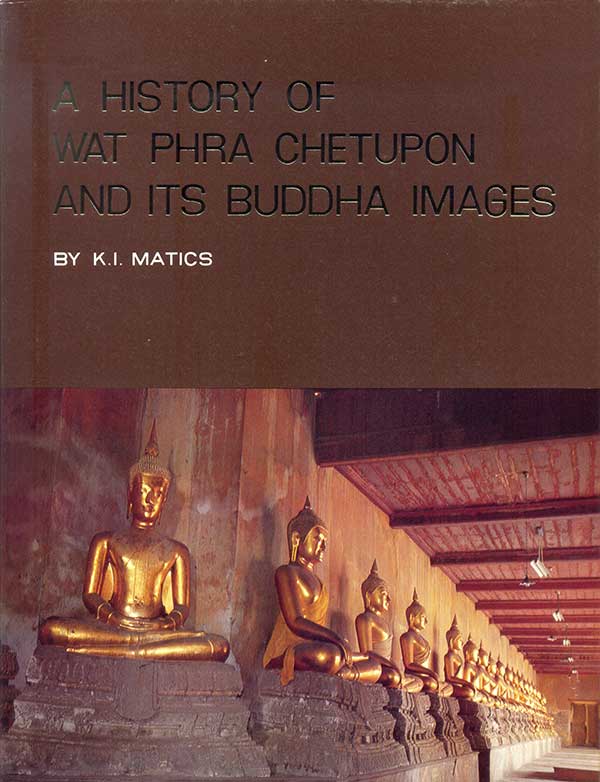 A History of Wat Phra Chetuphon and its Buddha Images
By Kathleen I. Matics, 1979. 71 pp., ill.
Non-Member / Member: THB 150
Comprehensive introduction to the fascinating, and historically and artistically important, Bangkok temple popularly known as Wat Po.