A VISIT TO MYSTERIOUS SIKKIM AND MAGICAL DARJEELING
Sikkim is a state in northeast India bordered by Bhutan, Tibet and Nepal. Located in the Eastern Himalayas, the area has dramatic landscapes that include India's highest peak, the Kangchenjunga at the height of 8,586m and the third highest on earth. Sikkim was an independent state populated by the indigenous Lepchas and early Tibetan settlers. In 1975, it became a part of India. This remote state is the second smallest in India and the least populous. The people are Buddhist of the Vajrayana sect, and 200 monasteries dot the region. Sikkim's capital and largest city is Gangtok, originally established as a pilgrimage center, and has some beautiful Tibetan Buddhist monasteries with large murals, thangkas and prayer wheels. Also noted is the Namgyal Institute of Tibetology that houses rare Buddhist scripture and art. A good view of the mountains can be seen at Tashi Viewpoint.
On this trip, we will focus on southern Sikkim with its scenic vistas, Buddhist monasteries, tea plantations, mountain trails and local handicrafts. We will also pay a visit to Namchi, whose poetic name is Sky High, home to impressive pilgrimage centers, and one that has the world's largest statue of the Buddhist Padmasambhava, which is also known as Guru Rinpoche, the patron saint of Sikkim that is 40m tall.  Pelling is a small town with amazing mountain views, a place that was once the capital of Sikkim and where the ruins of the old royal palace can still be seen. Like all Sikkimese places, Pelling has some attractive monasteries. The Pelling Glass Sky Walk is the first of its kind in India.
Darjeeling, in India's West Bengal state, was once the summer resort for the elite of the British Raj. Popularly known as the Queen of the Hills, it is famous for its scenic beauty, ancient forests, tea plantations and the narrow-gauge Darjeeling Himalayan Railway known as the Toy Train, completed in 1881. The Ranjeet Valley Ropeway, built originally to reach remote tea plantations, provides an exciting 45-minute cable car ride with aerial views of forests, streams and tea plantations. Observatory Hill will allow us a magnificent view of the Himalayas, while walking down the mall will highlight some places of past British life in Darjeeling, the tea museum, grand hotels, old churches and more. Here too, are some impressive Gompas (monasteries) belonging to various Tibetan sects. No trip to Darjeeling is complete without a visit to a tea plantation and a tea factory. We will have the opportunity to experience tea tasting in one of the town's tea rooms and take a short ride on the Toy Train to mark an end to this memorable trip.
When
Saturday, 22 to Sunday, 30 April 2023
Leader
Khun Ruth Gerson, Member of The Siam Society
The tentative programme will be as follows:
Day 1: Saturday, 22 April: Bangkok –– Bagdora
05:00
Meet at Suvarnabhumi Airport, check in at the counter of Druk Air
07:30
Depart Bangkok to Calcutta by Druk Air flight KB131

*Please note that the Druk Air flight to Sikkim is a flight which continues on to Bhutan, a popular tourist destination. Please make sure to make your booking as soon as possible to secure seat(s) on this flight.

 

09:30
Arrive at Bagdogra Airport. Continue driving to Gangtok, Sikkim
–
Lunch at a local restaurant along the way
Afternoon:
Check into The Elgin Nor-khill Hotel with rest of the day at leisure
Evening:
Dinner and overnight at the hotel
Day 2: Sunday, 23 April: Gangtok
–
Breakfast at the hotel
Morning:
Proceed to visit Rumtek Monastery, situated on a hill (24 km SW of the city), which is the largest monastery in Sikkim, seat of the Kagyu sect (Black Hats), and houses treasures brought from Tibet.
Noon:
Lunch at a local restaurant
Afternoon:

Visit Enchey Monastery, housing a large prayer hall covered with murals and statuary, followed by a visit to Namgyal Institute of Tibetology, which houses a rare collection of medieval Buddhist scriptures. Afterwards, proceed to nearby Dro Dul Chorten with its large stupa (Chorten) and 108 prayer wheels, bronzes and embroidered thangkas and Tashi Viewpoint.
–
Dinner and overnight at the hotel
Day 3: Monday, 24 April: Gangtok – Namchi – Pelling
–
Breakfast at the hotel
Morning:
Check out of the hotel and drive to Pelling. Along the way, pay a quick visit to Namchi.
In Namchi, visit Char Dham Samtruptse hill (Wish fulfilling Hill) of the dormant volcano, featuring the statue of Guru Rinpoche 118 feet (40 m), the tallest of its kind in the world.
Noon:
Lunch at Temi Tea Estate
Afternoon:
Continue to Pelling and on arrival, proceed for check-in at The Elgin Mount Pandim Hotel.
–
Afternoon tea and shopping in Pelling Bazar and Geyzing Bazar
–
Dinner and overnight at the hotel
Day 4: Tuesday, 25 April: Pelling
–
Breakfast at the hotel
Morning:

Proceed to visit Sangachoeling Monastery (1697), featuring Sikkim's second oldest exquisite murals and Pelling Glass Sky Walk, the first of its kind in India.
Noon:
Lunch at a local restaurant
Afternoon:
Visit Pemayangtse Temple (1705), the highest gorge bridge in Asia. You can also find Rabdentse Ruins (1670) of the second capital of the former kingdom of Sikkim.
–
Dinner and overnight at the hotel
Day 5: Wednesday, 26 April: Pelling – Darjeeling
–
Breakfast at the hotel
Morning:
Check out of the hotel and drive to Darjeeling

On arrival at Darjeeling – visit the mall in the center of town and visit the Tea Museum, St. Andrew's Church, where the founder of Darjeeling is buried. Afterwards, visit St. Columba's Kirk, with its beautiful stained-glass windows.

Noon:
Lunch at a local restaurant and transfer for check-in at Mayfair Darjeeling Hotel
Afternoon:
Visit Bhutia Busty Monastery (1879), with its beautiful murals, where the Tibetan Book of the Dead was first translated into English (1927) and Observatory Hill.
–
Dinner and overnight at the hotel
Day 6: Thursday, 27 April: Darjeeling
–
Breakfast at the hotel
Morning:
Proceed to enjoy Ropeway Ride at Ranjeet Valley Ropeway (45 min. ride) built originally to reach the tea gardens, where you can experience a magnificent aerial view of dense forests, mountains, waterfalls, rivers and tea gardens.
–
Happy Valley Tea Estate, a tour of the historical tea plantation and Tea Factory (5 km NW). Enjoy tea at the Tea House.
Noon:
Lunch at a local restaurant
Afternoon:
Visit Yiga Choeling Gompa (6.7 km SE) also called Old Ghoom Monastery, which is the most famous monastery in Darjeeling. It belongs to the Gelukpa Yellow Hat sect and is known for its 5 metres high statue of the Maitreya Buddha and holds 300 Tibetan texts. Afterwards visit Himalayan Tibet Museum.
–
Dinner and overnight at the hotel
Day 7: Friday, 28 April: Darjeeling
–
Breakfast at the hotel
Morning:
Proceed for Darjeeling Toy Train Rides from Darjeeling to Ghum
–
Shopping and tea tasting at Nathmull's Tea Shop
Noon:
Lunch at a local restaurant
Afternoon:
Visit Peace Pagoda, one of the many built by the Japanese around the world. There is a puja with drumming at 16:30 – 18:30. Visit Druk Sang Ngag Choling Gompa, one of the largest monasteries where 200 monks reside, built in Tibetan style in 1971 and belongs to the Tibetan Kargyupa Sect, serving as headquarters and residence for Drukchen Rinpoche the XII, the supreme leader of the sect.
–
Dinner and overnight at the hotel
Day 8: Saturday, 29 April: Darjeeling – Bagdogra – Kolkata
–
Breakfast at the hotel
Morning:
After breakfast, continue driving to Bagdogra
Noon:
Lunch at a local restaurant near the airport. Afterwards, transfer to the airport
14:20
Depart Bagdora for Kolkata by IndiGo Air flight 6E6444
15:20
Arrival at Kolkata
–

–

Dinner at the hotel or a local restaurant near the airport.

Transfer back to the airport

21:30
Depart Kolkata to Bangkok by IndiGo Air flight 6E1057
Day 9: Sunday, 30 April: Bangkok
01:40
Arrival at Bangkok Suvarnabhumi Airport
                    The Siam Society reserves the right to change the programme as necessary.
Booking:
Contribution of THB 89,000 (THB 92,500 for non-member). Single room surcharge of THB 27,000. A deposit of THB 30,000 and a photocopy of the identification page on your passport must accompany the booking. Your reservation will be confirmed as soon as the deposit has been made. Payment in full will be required 30 days before the start of the trip (i.e. by Wednesday, 22 March 2023). Please pay by cash or cheque payable to "The Siam Society". Transfer can also be made to The Siam Society travel account at TMBThanachart Bank (ttb), saving account no. 053-2-18000-7 or by scanning the QR code on your right. Once payment has been made, please fax or e-mail the deposit or transfer docket to us.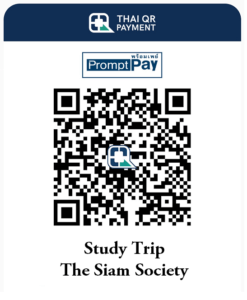 Inclusions:
The contribution includes accommodation (double sharing basis), air tickets, meals as mentioned in the programme, transfer and sightseeing cars, entrance fees, gratuities and other costs incurred to make this trip possible.
Exclusions:
Visa fees (for entering India and the Sikkim area), personal expenses, personal food and beverage consumptions, etc.
Extra surcharge in aviation fuel and those related to air travel.
To comply with payment and cancellation policies set forth by tour agencies and to facilitate smooth working conditions between The Siam Society and the tour agencies, please read carefully the revised cancellation policies stated below:
Cancellation charges:
| | |
| --- | --- |
| 45 days before the start of the trip: | Deposit forfeited |
| 45–30 days before the start of the trip: | 50% of the tour cost |
| Less than 30 days or cancellation without notice: | No refund |
Covid-19 policy
Due to a lower number of worldwide infections, many countries have relaxed their travel restrictions and quarantine requirements in regards to Covid-19.
Nevertheless, when traveling as a group, The Siam Society would like to remind you of the following measures that we have put in place:
– We kindly ask that our trip participants perform a self-administered ATK test prior to the commencement of the trip. Participants are also asked to carry along with them multiple sets of ATK test kit, along with their preferred set of medicines (for consumption if infected with Covid-19.)
– In the event that trip participants are tested positive during the trip, the group will continue to follow the planned itinerary. To ensure the health and safety of all trip participants, those tested positive shall adhere to appropriate self-isolation measures as directed by the trip leader.
– Those tested positive with severe symptoms shall be treated in accordance with the health measures stipulated by the local government. Medical costs in excess of the insurance coverage shall be at the expense of trip participant(s).
– The Siam Society will provide a health insurance for all trip participants. Medical costs in excess of the insurance coverage shall be at the expense of trip participant.
– Our staff and local tour operators will constantly provide you with the latest update on local health and safety regulations.
Tourist Visa Policy
Thai passport holders and foreign nationals will require a visa for entering India. However, visitors can apply for an eVisa via an online application, which is the most convenient option and can be completed from your home.
For more information, please follow the link below: https://indianvisaonline.gov.in/evisa/tvoa.html
For further information and bookings, please contact Khun Thun at 02-661-6470-3 ext 205 or thun@thesiamsociety.org. The Society's office is open from 09:00 to 17:00, Tuesday to Saturday.
More upcoming study trips